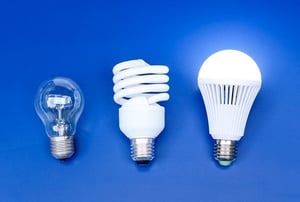 It's pretty obvious by now that energy-efficient homes are much more than a passing fad. We've been building and talking about green homes for years. But how much impact does the lighting in your new home have on the amount of energy you use (and on the amount of money you spend on electricity)? Will LED lights really make a difference in your new Rochester-area home?
At Gerber, we (along with another Rochester-area builder) were part of a solid-state lighting demonstration project conducted by Newport Ventures on behalf of the New York State Energy Research and Development Authority. Here's how the project was conducted.
After construction was completed on two Energy Star-certified homes, professional lighting designs were developed using a 100 percent LED lighting package. Both homes were then monitored for 9 months to track energy and cost savings related to lighting. The energy use in the homes was then compared to a code-built home and a home that used exclusively incandescent bulbs for lighting. Here are the results:

As you can see, there's a pretty big difference in the cost between an all-LED solution and one that relies on incandescent lights or even a mixture of lighting options in a code home. In Fairport, the difference between LED use and incandescent is more than $290 a year. In Canandaigua, the savings amount to more than $240. Click here if you'd like to learn more about this test.
When LED lights first came out, some homeowners weren't crazy about the light they gave off because it tended to be a little on the cool side. Today's LED bulbs however produce a much warmer, more natural light. And you can even change the hue and color of LED bulbs with kits from Phillips and other manufacturers. That makes them not only energy efficient, but quite versatile for decorating.
As one of the first builders in the Rochester area to be certified as an Energy Star builder, we care about giving you the best products built, using smart, innovative and energy efficient construction techniques that add value to your home while saving you energy—and money. And that's the approach we take to every aspect of the homes we build for our clients.
If you're looking for ideas for your new home in the Rochester area, I invite you to download our free Home Design Guide. It's packed with ideas to ensure that your new home will be not only energy-efficient but comfortable and enjoyable for years to come.