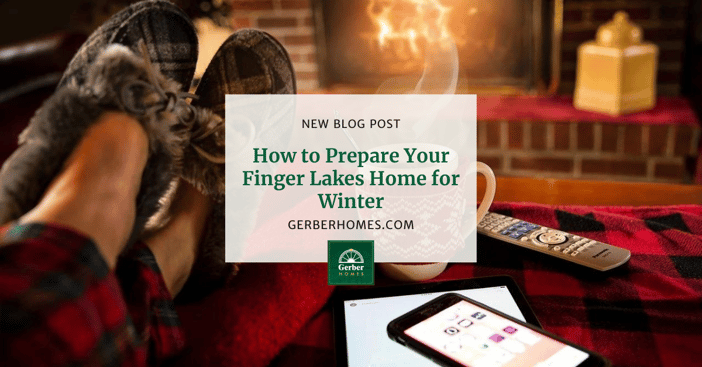 Snow, ice, hail and freezing temperatures can a take a toll on your Finger Lakes home, causing damage that can be costly to repair. Fortunately, preventing winter mishaps can be as simple as taking these steps to prepare your home for winter weather.
Look for Gaps and Air Leaks
Gaps let moisture in and allow heated air to escape your home. Check for gaps or leaks in these areas:
Windows and Doors: Gaps around windows and doors can occur if caulk comes loose or trim is damaged or rotted. Replacing caulk or trim now will help you stay warm and cozy during cold winter days.
Pipes and Wires: Cold air also enters your home through openings around pipes and wires. Sealing these gaps with caulk or spray foam can lower your heating bill.
Electrical Outlets and Wall Switches: Poorly insulated electrical outlets and switches are an often overlooked source of heat leaks. Adding foam gaskets under outlet and switch covers will prevent heat loss.
Flashing: Flashing is a thin strip of water-resistant material that covers the area where the walls meet the roof or chimney. If the flashing is loose or damaged, water can penetrate your walls, causing thousands of dollars of damage.
Schedule an HVAC Service Call
A furnace malfunction is one of those life experiences you'll probably want to avoid. In addition to the discomfort of waking up to a chilly house, furnace outages can also lead to frozen pipes. Scheduling yearly service calls keep your system in optimum condition and help you avoid malfunctions.
Winterize Sprinklers and Outdoor Faucets
Freezing temperatures can damage sprinklers and faucets, causing leaks that flood your backyard or basement. Drain faucets and sprinklers completely to prevent burst pipes. You may also want to cover outdoor faucets with insulated faucet covers.
Insulate Your Pipes
Un-insulated pipes in your basement or garage can also burst in freezing temperatures, sending a cascade of water through your home. Wrap the pipes in fiberglass sleeves, available at home improvement and hardware stores. Insulating pipes not only reduces the risk of freezing but also helps hot water stay warmer as it flows through your home.
Clean Your Gutters
Removing leaves and debris from your gutters prevents the formation of an ice dam, a layer of ice that forms on top of your gutter. The dams prevent melting snow from reaching the gutters. With nowhere else to go, the melted snow enters your home instead.
Give Your Chimney Sweep a Call
Before you light a fire in your fireplace, make sure you've had a fireplace and flue cleaning first. Soot and creosote build-up inside chimney walls can cause chimney fires and may also increase the risk of carbon monoxide poisoning. During a chimney cleaning, your chimney sweep removes these substances and also makes sure your fireplace damper is working correctly.
Check These Additional Winterization Tasks Off Your To-Do List
Add these important winterization tasks to your list:
Drain the gas from your lawn mower.
Look for cracked or broken window panes.
Replace loose or missing pieces of siding or roofing shingles.
Organize shovels, snow blowers, ice melt and other essential winter tools and supplies.
Test your smoke and carbon monoxide detectors.
Remove dead or overhanging tree branches that could fall and hit your house or car during a winter storm.
Preparing your Finger Lakes region home for winter could save you $1000s or $10000s in home maintenance. Don't delay! Fall is the time to prepare your home for winter so you can enjoy the cold weather and holiday seasons with less stress while staying warm and safe inside!