Everyone has a different idea of what their dream home is. The perfect marriage of your style, personality, functionality needs, and utility desires all help to make up the perfect home.
If you want to build a home, but want more than standard floor plans have to offer, building a custom home may be the best option. It will allow you to choose everything from the style & materials to the layout & functionality of your home. Do you want an open concept kitchen with custom cabinets and an over-sized kitchen island or a spacious family room with cedar wrapped beams and a floor to ceiling fireplace? With a custom home, anything is possible! Create the home of your dreams in Rochester, NY with the help of our experienced team.
Building a custom home allows you to create a home that is specifically designed for you and your family. You don't have to worry about dealing with a dysfunctional floor plan or the 80's-inspired design left behind from a former homeowner. With a custom built home, you get exactly what you want and need!
Have you thought about which features you'd like to have in your custom home? Here are some of the common features that families request when building with our team:

With a custom home, you can build a home that is specifically tailored to your lifestyle. Do you want extra space to entertain guests your guests? Consider adding double kitchen islands. Prefer to entertain outdoors? Add an outdoor kitchen that will allow you to enjoy your backyard while spending time with loved ones.
Another great benefit of building a custom home is that you get to customize everything to your style and personality. From a cozy and intimate Cape Cod style to an ultra Modern style with lots of glass and wood elements, you get to decide how you would like your Rochester area home to look. This means that you will have a home that is truly one-of-a-kind!
If you're building a custom home, there are a few ways that you can add your own style and personal touches into the design. You can choose your home's:
Design Style: What is your favorite style? Traditional, Mid-Century Modern, Rustic, Contemporary, Minimalist, Transitional, or Farmhouse Chic?
Color Palette: Do you care for a neutral color palette or do you want something more bold?
Materials: Consider how much each material will cost, its durability, and how much maintenance will be required before making any decisions.
Accents: You can add accents throughout each room by including feature walls and accessories in your favorite color.

Special Features: Do you want to add any special features like smart-home technology, a commercial-grade kitchen, or a wine cellar into your custom home?
Where should I build a custom home near Rochester?
Building a custom home gives you the freedom to choose the location of your new home. When selecting the location for your future home, try to consider the cost of the property taxes, schools within the district, distance to shopping & entertainment, proximity to work, and the community around the home site.
At Gerber Homes, when we select the locations for the new home communities that we develop, we look for towns and cities that show a promising future for growth and development. This is so important as it will ultimately enhance the lives of the people living in each of our communities. Here are some of the locations that we build in across the Rochester, NY area:
Ontario

County, New York
Canandaigua, NY, Victor, NY, Bloomfield, NY, Gorham, NY, Farmington, NY, and surrounding areas
Monroe County, New York
Rochester, NY, Webster, NY, Perinton, NY, Rush, NY, Penfield, NY, Mendon, NY, and surrounding areas
Wayne County, New York
Ontario, NY, Huron, NY, Walworth, NY, Sodus, NY, Marion, NY, Macedon, NY, and surrounding areas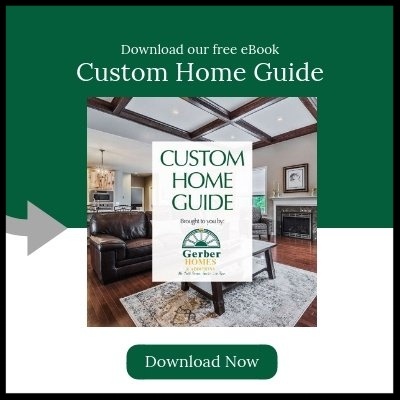 How do you build an energy efficient custom home for the NY climate?
Building a custom home allows you to save money on your utility bills and limit your use of natural resources. They are more energy efficient now than ever before thanks to modern insulation, multi-pane windows, and solar panels. If energy efficiency is important to you, consider some of these options for your new home in the Rochester, NY area:
Spray Foam Insulation

Double Pane-Low Emissivity Windows

Solar Electric Panels

Energy-Star Appliances

Efficiency Water Heaters

Storm Door