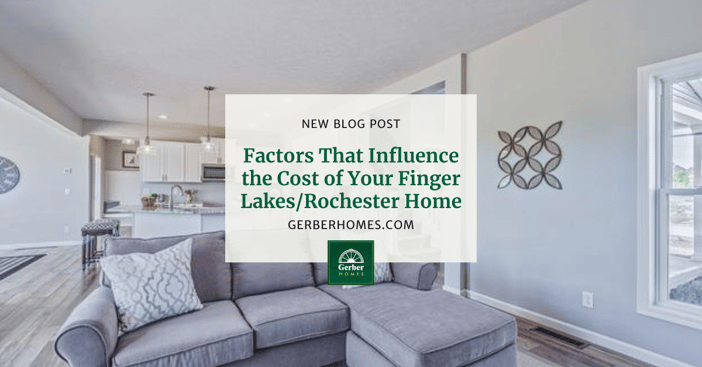 Have you ever wondered how real estate and home building experts determine home prices? Many factors affect how much you'll pay for a home in the Finger Lakes/Rochester area, including these key details:
Where the Home is Located
Buyers are willing to pay more to live in safe, attractive neighborhoods that offer good schools. The school district can have a significant impact on the cost of your home, its value, and your ability to get a good price when you eventually sell your house. School quality is determined in large part by student performance. The Board of Regents offers information on standardized test scores for every school in the state of New York on its website.
Proximity to stores, medical offices, schools, and highways affects price. How close is too close varies depending on where you're looking for a house. In urban areas, homes may be priced higher if they're a few blocks from the business district, while homes in suburban or rural areas are often priced lower if they're too close to businesses.
The towns and cities Gerber Homes selects for our new home communities are chosen for their potential for future growth and development. When you become a resident of these communities, you'll never be far from the amenities and services you need but will have the space and privacy you want.
Nearby homes also influence home pricing. Realtors and home builders carefully consider the value and prices of other houses in the neighborhood when determining a selling price.
Features and Upgrades
A bare-bones house will sell for less than one that's been upgraded. If you're buying a brand new home in the Finger Lakes region, you'll be able to pay for upgrades that increase your home's value.
Popular upgrades include replacing carpeting with hardwood flooring, choosing higher-quality kitchen and bathroom cabinets and countertops, adding additional lighting to your home, reducing your energy costs with solar electric panels, or enlarging the size of the family room or garage. Although upgrades increase the total cost of your new house, they help you personalize your home and create a comfortable place to live.
Home Size and Floor Plan
Generally, the bigger the home, the more it will cost. Material and labor costs are higher with larger homes, and the construction process may be longer as well. If you're buying a brand new home, the lot you'll choose will also affect the price. Premium lots, such as those that are oversized or offer more privacy, usually cost more.
Prices may increase or decrease depending on a home's floor plan. Houses with well-designed floor plans may be priced higher than those with cramped rooms and poor flow from room to room.
Landscaping
You'll pay more if the house you buy features a beautifully landscaped yard or a two-level deck with a barbecue area. If you opt for a landscaping upgrade when purchasing a new home, you'll see an increase in the amount you'll pay. Although the basic landscaping package that comes with a new home usually includes sod and some shrubbery, you may want to choose more plants or select a few trees to provide shade in the summer. Adding large decks or patios can also boost the price of your new home.
Have you decided to make a move to the Rochester/Finger Lakes area but haven't found the ideal home. One of our communities may be the perfect choice for you. Contact us to learn more about communities and custom homes.