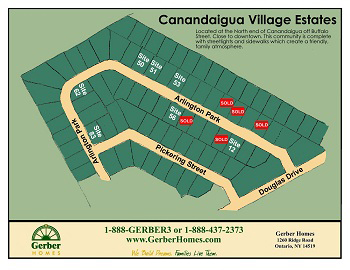 There's a phrase traveling around that's probably as old as the hills, but makes more sense than ever now. It's "Quality of Life."
We judge our "Quality of Life" a number of ways. Certainly family, health, and happiness, are many people's Top Three. But HOW we achieve these must be equally important.
Career, Home, and Recreation, factor into this process. For instance,
Do we love our work?
Does our home fit the needs of our family?
Does the location of our home and work leave us enough time to relax and enjoy life?
Keeping these factors in mind, Gerber Homes of Rochester NY carefully chose the locations for their communities. These include:
Webster NY
Ontario NY
Victor NY
Canandaigua NY
Sodus NY
Marion, East Bloomfield, and Huron NY
Gerber Homes chose locations that show a promising future for growth and development. For instance, Webster NY as a vibrant Chamber of Commerce that carefully invites businesses that will enhance that community. From this Town Center shopping was born. Visitors from as far as Toronto Canada will come by bus, stopping at Town Center on their way to the Finger Lakes region. Webster has earned the rank of Sports Town USA, boasting more ball fields per capita than any town around. Throw in the Aquatic Center, Hockey Rink, Marching Band, and proximity to water recreation, and Webster is the total package.
Same for Canandaigua and Victor NY. Both communities are vibrant, growing, and close to business and shopping. No more long commutes. And when it's time to relax, you have Canandaigua Lake and the Wine Region at your finger tips.
So why should you visit one of Gerber Homes' many model homes in these communities? Because Gerber Homes has been building new homes for over 50 years. They study trends, and know where a new community will bloom. Where people can:
Have the easiest commute to work
Live in a home that is tailor-made to fit their needs
Enjoy their leisure time
Click here to explore the different communities Gerber Homes has to offer. Click here to see just a few of their many floor plans. Give Gerber Homes a call today to find out more! (888) 437-2373.