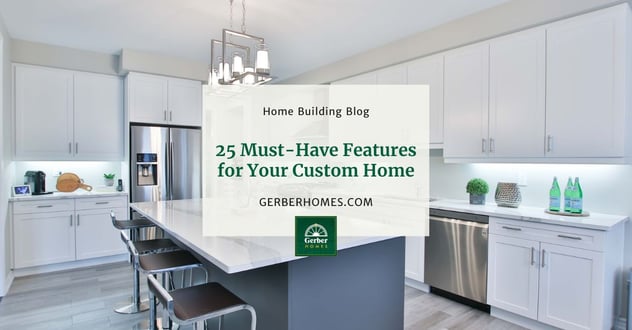 One great thing about building a new custom home is that you don't have to settle for standard features and finishes. Creating a home that's uniquely yours is what makes a custom home special. As you're planning your Rochester/Finger Lakes Area Home, you're likely to come across certain features that you know you want to include in the plan. It's not because these things are trendy or ostentatious. It's because they deliver the kind of comfort and convenience you really want. With that in mind, let's look at 25 "must-have" features for your 2023 custom home.
Quickly navigate through different sections of the must-have features for your custom home:
First Floor Features
Two-Story Foyer
If you're building a multi-story house, consider selecting a floor plan with a two-story foyer. Install an elegant chandelier, display a large piece of art, or make your staircase the focal point of your foyer.
Mudroom
A well-planned mudroom can be a lifesaver and prevent clutter from taking over your home. Keeping muddy shoes, coats, backpacks, sports equipment, and school projects organized and contained is much easier when you have a mudroom right off the entrance from your garage.
Add extra storage by building in a few cubbies or adding individual lockers for every family member's belongings. If you have a dog, the mudroom is a great place to hang leashes and wipe off muddy paws before your pet heads into the house. Built-in kennels and pet washing stations are also excellent mudroom features for pets.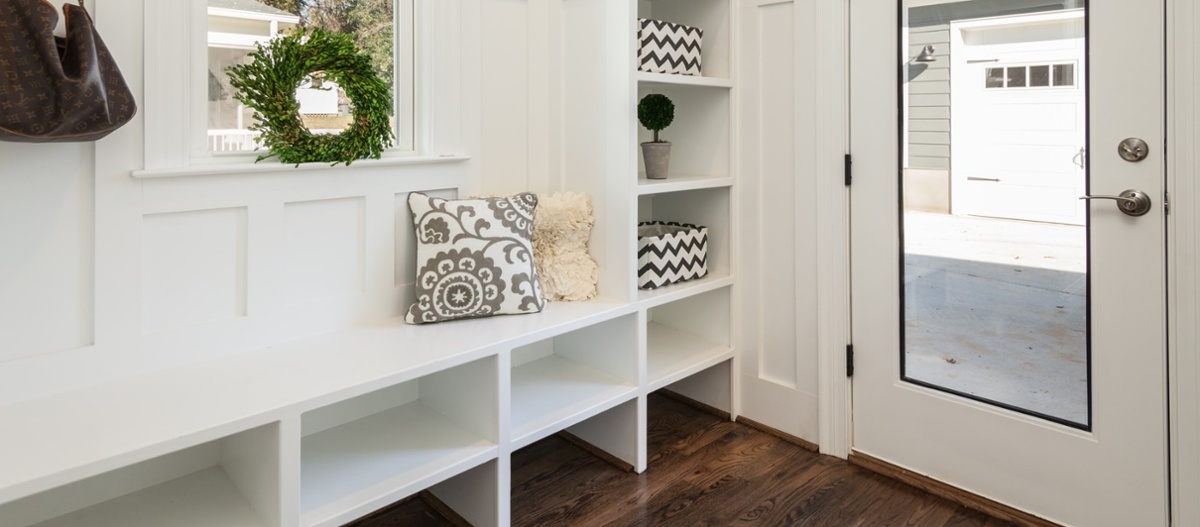 First-Floor Master Suite
A first-floor owners' suite can save you some money if you plan to remain in your home after you retire. It makes sense to move your bedroom to the first floor if you're concerned that mobility issues may one day make climbing the stairs difficult or impossible. Since your bedroom is already on the first floor, you won't have to spend thousands of dollars to remodel your home if you ever develop mobility problems.
Accent Wall in Your Family Room
Accent walls, particularly those that offer interesting textures or patterns, are an excellent addition to your family room. Coat one wall with a dramatic paint color, add textured or patterned wallpaper or cover it with intricately designed wood panels or a sheet of hammered metal.
Game Room
If you or your kids love gaming, you know that things can get a little loud at times. A dedicated game room can solve that problem. Ask the whole family to help you decorate the space in a fun or funky style that sets the room apart. Depending on space limitations, you could even combine the game room with the ultimate home theater, add both online gaming and arcade-style games, create a climbing wall, or make room for a sports simulator.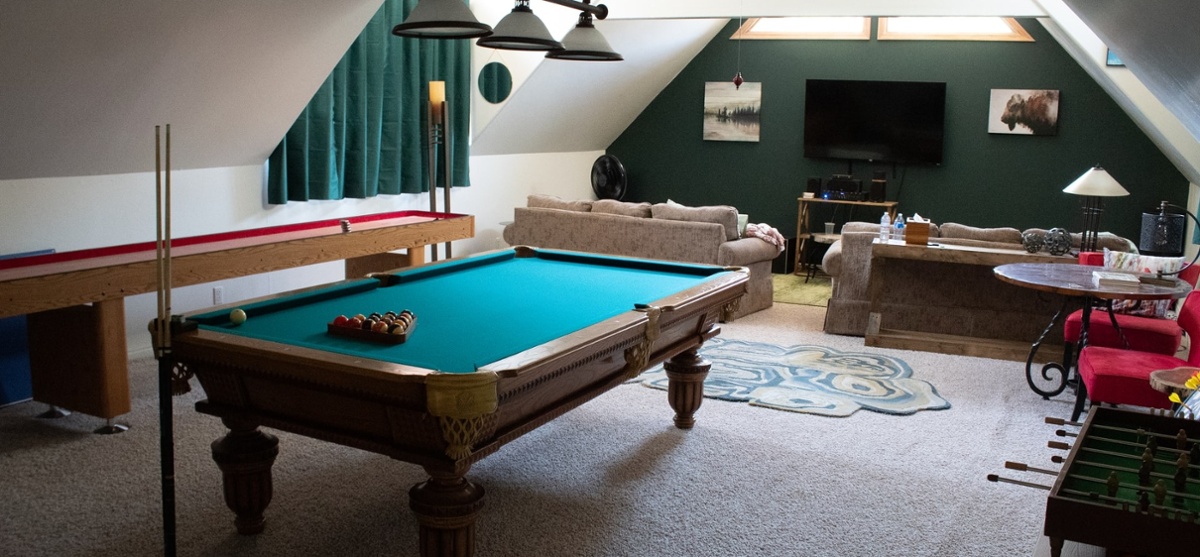 Main Floor Dedicated Laundry Room
A laundry room may not be the first thing that comes to mind when you're deciding which features to include in your home. Still, a laundry room on the main level can make your life a lot easier. If laundry isn't your favorite activity, a room that's designed specifically for the task can make cleaning your clothes less of a chore. With a dedicated laundry room, you'll have plenty of space to treat stains before you wash a load, hang clothing that must be air-dried, or iron a wrinkled shirt.
Adding a few personal touches to the décor can turn the room into a cozy place to tackle the week's laundry. If you have enough room, add a comfortable chair, a laundry sorting table or counter, a colorful painting, and a shelf or cabinet large enough to hold all your laundry supplies.
Home Office
During the COVID-19 pandemic, many of us discovered that the couch or kitchen table isn't a comfortable place to work full-time. Whether you're working from home permanently or need a place to catch up on work occasionally, a home office is an important addition to your custom home. Turn a first-floor study or a spare bedroom into your workspace, or carve out a little space in the basement for your home office.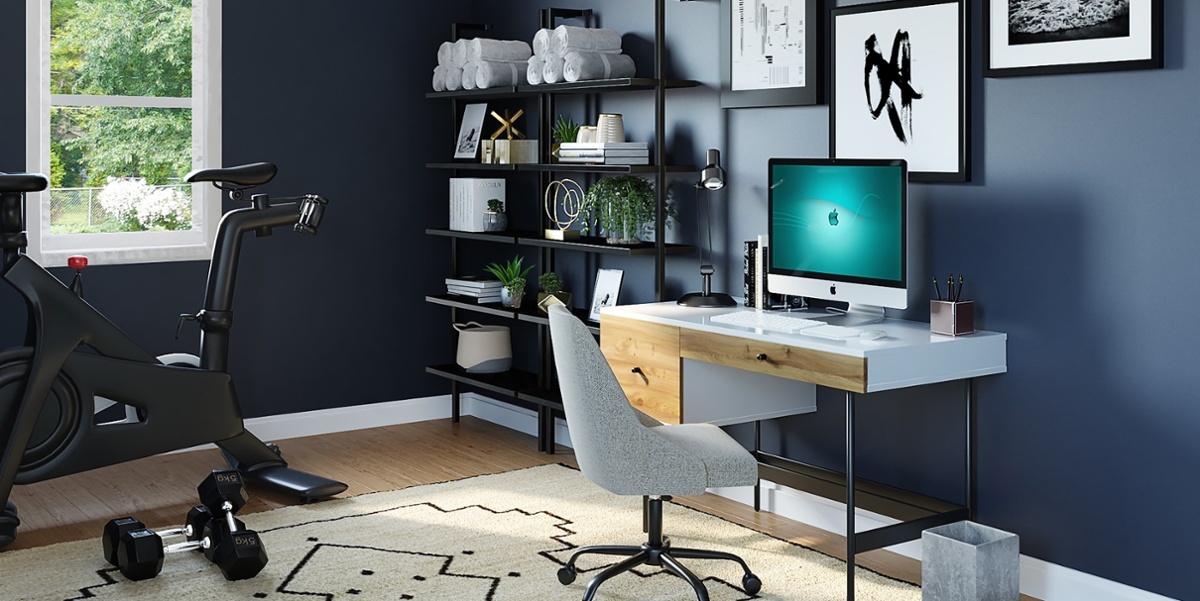 Primary Bedroom and Bath
Seating Area
If your home is your castle, a master suite is your inner sanctum. Luckily, you can create a private, comfortable space that's yours and yours alone when you build a custom home. A seating area located in an alcove or separate room offers the ideal place to unwind at the end of a busy day or spend a little one-on-one time with your spouse or partner.
Walk-In Closet
Are your current closets overflowing with clothing? When you choose a custom floor plan with an oversized closet in the master bedroom suite, you'll have plenty of room to store and organize your clothing and shoes. Depending on the size of the closet, you may want to add a central island to store accessories and other items, install custom shelving or include a dressing table with a large mirror.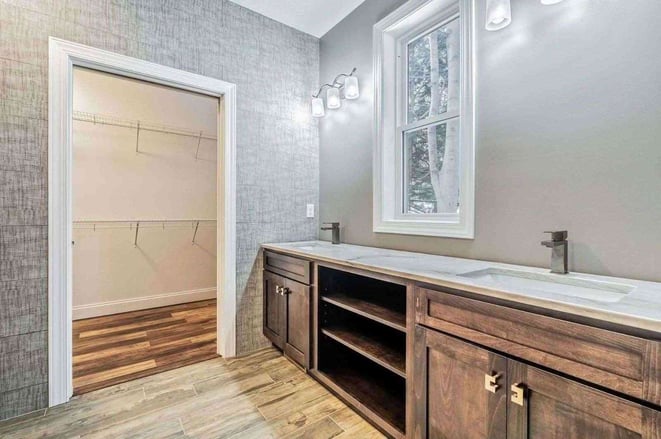 Primary Bath Features
A private bathroom just may be one of the most appealing aspects of an owners' suite bathroom. You won't have to share the room with your kids and guests and can design the bathroom with your needs in mind, not those of the entire family.
Why not splurge on a few upgrades and features that will help you create the primary bathroom of your dreams? Custom cabinets, ample storage, a waterproof TV, a sound system, a heated towel rack, motion-activated faucets, a wine chiller, a coffee bar, and other luxurious features will enhance your enjoyment of your bathroom.
Luxurious Shower Room
Cramped shower stalls or bath/shower combinations are no longer the norms in primary bathroom suites. Today's homeowners want spacious and luxurious showers that look and feel elegant. Natural stone or ceramic, glass, or porcelain tiles add beauty to your shower and are easy to clean. Include multiple showerheads for added warmth or choose an invigorating steam shower with a sound system.
Thanks to smart technology, you can even control your shower with your phone. Before you get out of bed, turn on the shower and set it to the desired temperature with just a few swipes. Other features that can upgrade your shower room include built-in seating and cubby storage, stylish grab bars, dimmable overhead lights, rainforest showerheads, and curbless entrances.
Freestanding Tub
Some homeowners have to choose between a shower or a tub in their bathroom, but there's no reason you have to make that decision. With a custom home, you can have both! Nothing makes a long, leisurely soak more pleasant than an elegant, freestanding tub, particularly if it features spa jets or chromotherapy lights. Freestanding tubs are available in a variety of shapes and finishes that add visual interest to your primary bathroom.
Custom Home Kitchen Features for 2023
Durable, Attractive Countertops
Although granite countertops were the top choice for years, solid surfaces, soapstone, quartz, marble, and other countertops materials have become more popular in the past few years. Want to make your kitchen truly stand out? Cover your kitchen island with a live edge slab of wood rather than a more traditional countertop material. The natural edges of the wood will give your island a one-of-a-kind appeal.
Statement Cabinets
They're one of the most expensive items in your kitchen, so why should your cabinets blend into the background? Solid wood cabinets with natural finishes add warmth and texture, while bold colors invigorate the room and serve as an inspiration for your kitchen décor. This year, blues, greens, and other rich colors found in nature are particularly popular.
Fewer Upper Cabinets
Eliminating upper cabinets makes your kitchen feel more spacious and open. If you're worried about storage, an island, pantry, or wall of frameless, integrated cabinets offers plenty of room to store food, dishes, and small appliances.
Single and Double Kitchen Islands
Kitchen islands are extremely popular—and practical. This custom island we recently built in Perinton provides plenty of space for food prep, casual family meals, and entertaining. If one island is good, two are even better. Double kitchen islands, the latest kitchen trend, increase storage, seating, and prep space. Is your sink loaded with dirty dishes when you host gatherings? Eliminate the problem by adding another sink or dishwasher to your second island. Dedicate your second island to a completely different purpose, such as homework or family command station.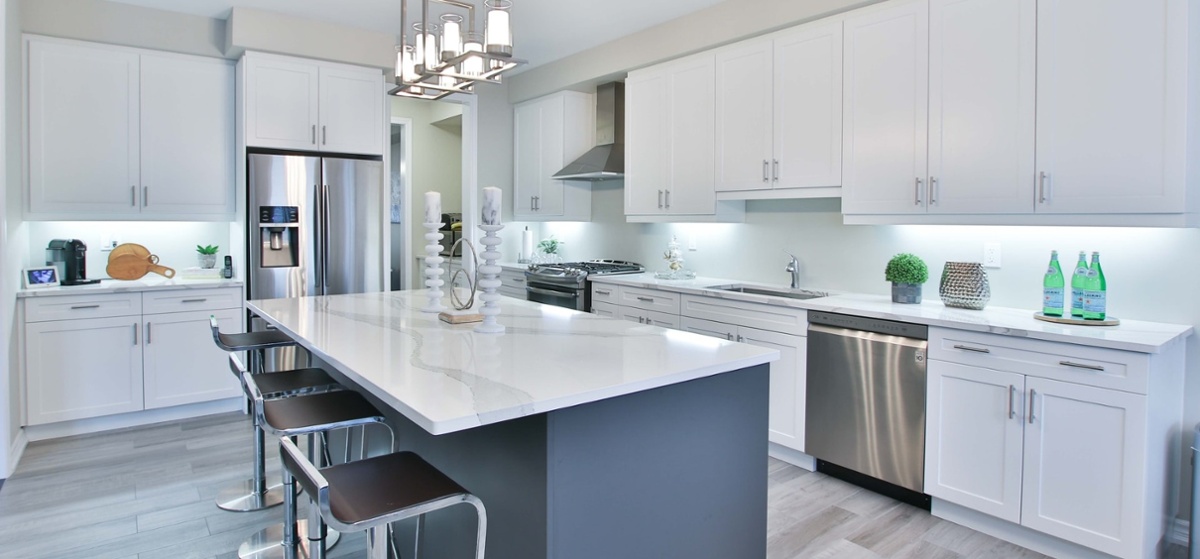 Walk-In Pantry
Including a walk-in pantry in your kitchen adds a whole new dimension of convenience and comfort and keeps clutter at bay. You can use your pantry for larger packages of food items without sacrificing space in your kitchen cabinets. A pantry also provides plenty of room to keep frequently used items at eye level or store oversized appliances (mixers, bread machines, air fryers, blenders) that you don't use as often.
The Latest Kitchen Technology
Smart kitchen technology makes planning and preparing meals easier than ever. Smart ovens pre-heat remotely, remember your favorite recipes, and automatically adjust temperature and cooking times. Tired of your kids constantly opening the refrigerator when looking for snacks? Buy a smart refrigerator with doors that become transparent with a touch of the hand. Smart microwaves and motion-activated lights and faucets offer other ways to incorporate technology into your new kitchen.
Other Features You'll Want to Consider in 2023
Outdoor Kitchen and Deck
Building an outdoor kitchen expands your outdoor entertaining capabilities and makes cooking outside more comfortable and convenient. You'll no longer be limited to a simple grill on your deck or patio but can create an outdoor kitchen and dining area that includes a built-in grill, refrigerator, counter space, and even a sink for cleaning up. An outdoor kitchen is an excellent addition to your outdoor living space.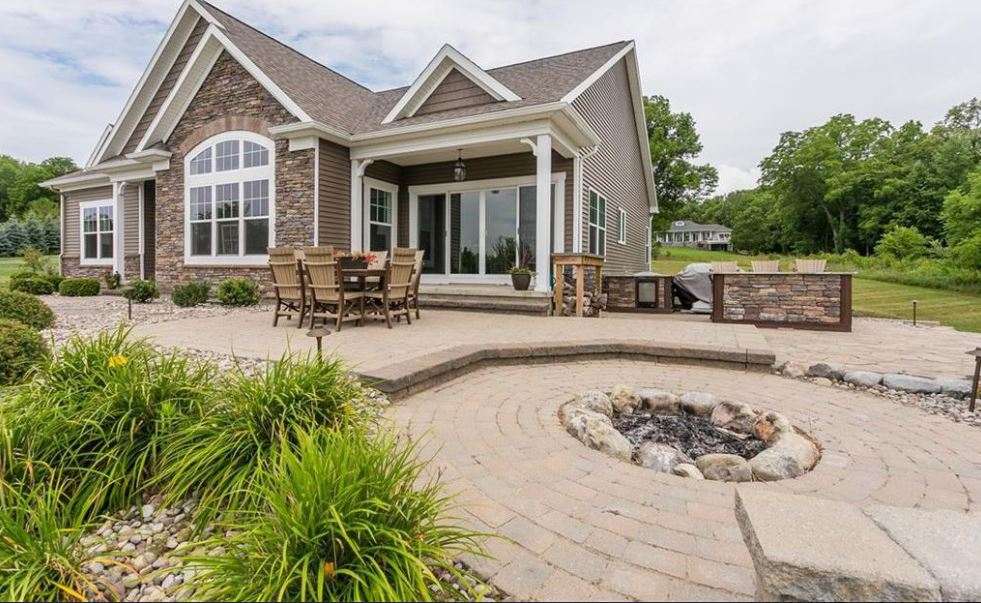 Floor-to-Ceiling Fireplace
There is nothing quite like a warm and inviting fire on a cold Rochester evening. Luckily, you don't have to settle for an unimaginative fireplace in your custom home. A floor-to-ceiling fireplace offers a dramatic focal point for a family room, whether you have a fire blazing or not. A wood-burning fireplace isn't the only option. Adding a natural gas fireplace to your home means that you can turn the fire on or off at your discretion and will never have to remove ashes.
Custom Built-In Shelves
You don't have to settle for ugly, out-of-the-box shelves that don't complement your home's design when you build a custom home. Your builder can build shelving for your kitchen, family room, or study that fits the style of the room, whether it's traditional, rustic, contemporary, or a combination of styles.
The shelving is attractive, doesn't encroach on your living space, and becomes part of the room itself. Adding built-in shelves and cabinets will help you maximize storage without detracting from the visual appeal of your home.
Wine Cellar
If you enjoy collecting, sampling, and sharing fine wines with your friends, why not take your hobby to the next level with a wine cellar of your own? You can include a small (closet-sized) wine cellar in your custom home design or ask your builder to create a larger cellar that includes a wine-tasting room with its own décor and atmosphere.
If you'd like dedicated wine storage but don't need a wine cellar, consider adding a wine chiller to your kitchen. Chillers fit under the counter and keep your wine collection at the perfect temperature.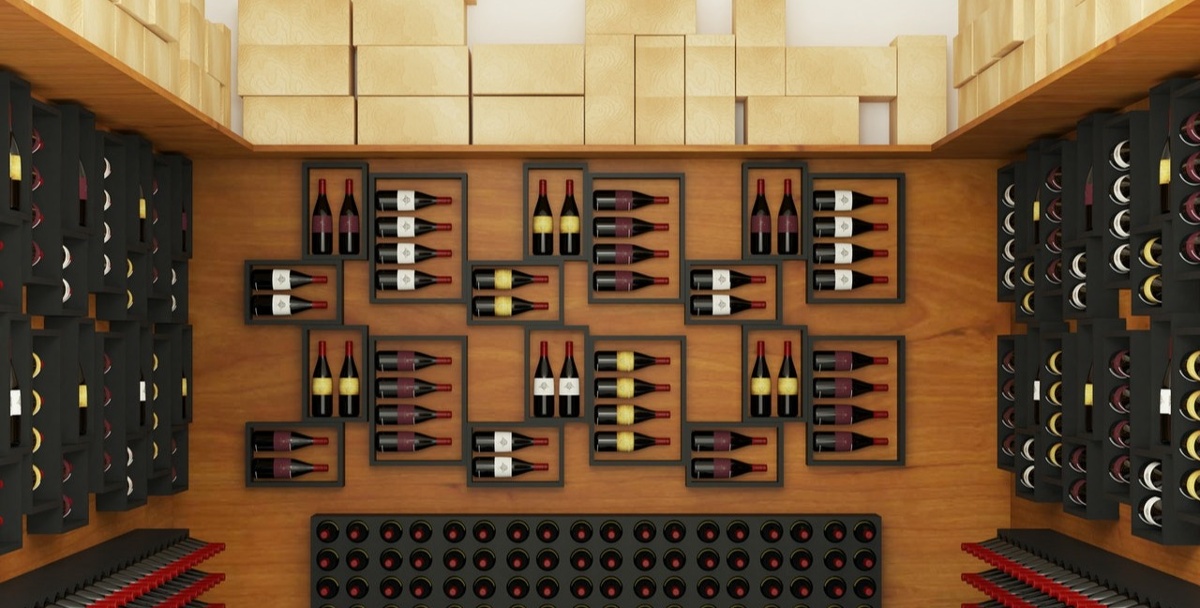 Central Vacuum System
Who says you have to push or drag a vacuum cleaner around your house in order to keep it clean? When you install a central vacuum system in your new home, you can simply plug in the powerhead in the wall inlet in any room and start vacuuming. There's no need to carry a heavy vacuum cleaner from room to room, empty dust containers, or deal with tangled cords.
Heated Floors
One of the most indulgent luxuries you can install in your home is one you'll never see. Putting in heated flooring in your kitchen or master bathroom is an indulgence that is an absolute delight in a cold-weather climate like Rochester. If you hate stepping out of the shower onto a cold floor or dislike standing on a freezing cold kitchen floor to make dinner, you'll want to make room in your budget for heated floors.
Pet-Friendly Spaces
More and more homeowners are incorporating features that make their homes comfortable for their pets. Designate an entire room for your pet's use, complete with comfortable beds and climbing perches. Or ask your builder to create built-in spaces for food dishes and litter boxes, or construct a special staircase with pet-sized steps.
We can help you choose features and amenities that will make your home more comfortable and attractive. Reach out to us today if you're interested in learning more about our custom home-building process.