Of all the rooms in your home, your master bathroom may be the most personal. It's also a room that you use multiple times every day—and it's one that you can creatively customize to provide comfort, convenience, and a touch or two of luxury. Let's explore some ideas for creating a luxurious master bathroom in your Rochester custom home.
Custom Convenience
First and foremost, your master bathroom needs to be fully functional and offer outstanding convenience. It's important to remember that it's probably going to be a shared space, so your bathroom design should consider that.
Vanities Are About More than Vanity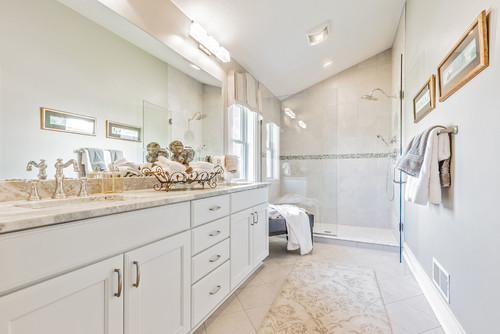 Togetherness is a great thing—except in the bathroom. Nobody wants to struggle for space when getting ready for work in the morning, or when they are trying to wind down for the night. That's why dual vanities are an absolute must for any custom master bathroom. Not only is it much more convenient to have your own sink, but it's also nice to have places for all of your toiletries where they are easy for you to access. Of course, having vanities that look great is a huge plus. The great thing about a custom master bath is that you can take the design in any direction you want. You can go for a sleek, modern look that sets the tone for the whole room. Or you can opt for stand-alone vanities that are custom-made (even from antique furniture) to create a warm, inviting space. Here's an article that takes a more in-depth look at various vanity options.
Super Showers
Today's showers have come a long way from the simple showerheads that sprayed into a conventional bathtub. Spacious showers with multiple showerheads (such as rain showerheads and body sprayers) are increasingly popular. Many homeowners are opting for barrier-free walk-in showers that have great lines and are a real benefit for maturing homeowners who are thinking ahead about aging in place. Many homeowners are adding elegant grab bars and seating options that not only look great but also add functionality and safety.
Customized Comfort
Your master bathroom can also offer lots of comfort. Adding features such as towel warmers may seem like a small thing, but you'll love grabbing a warm towel when stepping out of the shower on a cold Rochester morning. You can also take that warming comfort to another level by adding radiant floor heating. Nobody enjoys stepping on a cold bathroom floor in the middle of winter. Your master bathroom isn't just a place to get clean. It can be a great place for a solitary soak in a freestanding soaking tub at the end of the day.
Light, Bright, and Private
It's easy for homeowners to overlook the importance of great lighting in the bathroom. Of course, you'll want task lighting for applying makeup or for shaving. But you'll also want to let in as much natural light as possible to keep things bright. Adding skylights or high windows to your bathroom lets you do that without having to sacrifice privacy.
Extending the Luxury
Your bathroom itself isn't the only area where you'll want luxury and convenience. As you design your room, you may also want to consider an attached dressing room or a large walk-in closet that provides plenty of storage, space to get dressed, and lighting that makes it easy to pick out just the right outfit for your day.
What About Cost?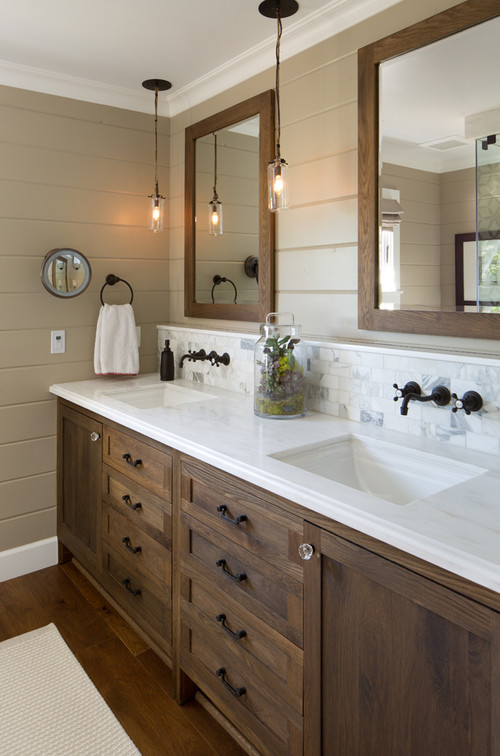 Naturally, you'll want to have an idea about what your custom master bath is going to cost you before you jump into planning. Because there are so many variables involved (size, complexity, materials used) it's virtually impossible to provide a "one-size-fits-all" cost. But to give you at least a general idea,
here's a look at remodeling costs for a variety of bathroom remodeling projects
in Rochester. An advantage you'll have when building your custom home is that you won't have to be concerned with tear out and limiting spaces. Still, this article can provide you with comparative costs for varying levels of luxury bathrooms.