Our homes are much more than roofs over our heads. They are places we interact with family and friends. And one big advantage of building a custom home is that you can create a space that allows you to entertain in a way that fits your specific personality and tastes. Of course, that takes some planning up front, so let's take a look at a few things to consider when designing your custom home for entertaining.
Start with the Kitchen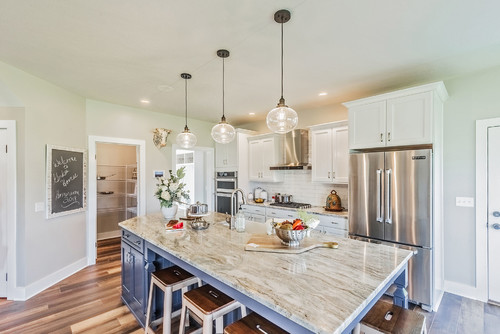 For many homeowners today the kitchen is the focal point when it comes to entertaining. Today's open design floor plans make the kitchen an integral part of hosting guests. It's still a hard-working room, so you'll want to make sure you design your kitchen to make food preparation convenient and comfortable. But, more often than not, guests today tend to congregate in the kitchen—even while the hosts are preparing meals or snacks.
That's one reason that over-sized kitchen islands are so popular. They provide you with plenty of work space for preparing and presenting meals and appetizers. You'll be able to visit with guests while you prepare—and they'll have room to set their drinks, and/or appetizer dishes. Nobody needs to be stuck alone in the kitchen anymore. As you think about your island, however, consider installing a separate sink in the island. It makes preparation easier—and it's a big help when it's time to clean up. You can also make your kitchen island do double duty. Include space for your family to sit at the island for breakfasts and snacks even when you're not entertaining.
Build in a Home Bar
Another consideration is to build in a separate bar area as another gathering spot. That can take some of the traffic out of the kitchen. You may even want to include an espresso machine or other coffee/tea making station and keep a sparkling water maker (such as a SodaStream© or other brand) on hand.
Create Your Own Theater Experience
Of course, there's more to entertaining than just eating and drinking. If you enjoy watching movies with your family and friends, you'll want to think about adding a dedicated home theater that's separate from your family room. Once again, planning ahead can make sure you end up with a theater/media room that you'll really enjoy. Sure, you'll want to pay attention to the television and sound system you install, but there's more to the story than just the equipment. Think about the ideal location for your home theater. And take sound-insulation into account so that you can enjoy your movies or sporting events at full volume—without disrupting the rest of the household. Think about lighting as well. You'll want area lighting and ambient lighting to set the right mood. Plus, you'll want to make sure you can adequately cover windows to prevent glare while you're watching.
More Fun and Games
Another fun option is to create a video arcade with "old school" style elements such as pinball machines or other arcade devices. Check out the Game Room Guys for a collection of classic arcade games that include everything from Pac-Man® to air hockey machines. Or, you may choose to create a space for younger children to play while the grownups are upstairs talking.
Customize Your Entertaining Ability
The beauty of building a custom home is that you have the ability to create spaces that fit your specific needs and desires. It's what really sets a custom home apart. But it all comes down to figuring out what you want and taking the time to plan and design your home ahead of time. Our Custom Home Guide eBook offers a lot of help in thinking through the things you'll need to know.