If you're considering building a custom home in the Rochester area and you have kids, you'll want to include them in your plans for the house to ensure that they feel like it's their home, too! Let's look at some of the areas you may want to think about when designing a kid-friendly custom home.
Bedrooms
Your home may be your castle, but your kids' rooms are their domain. You can customize these rooms to your children's personalities, tastes, and interests. One nice thing about building a custom home is that you don't have to be restricted to conventional rooms. The bedroom you see here is an example of how you can take the bunk bed concept to a whole different level. You can decorate it thematically or colorfully—whatever suits your child's preference.
Bathrooms
Providing separate bathrooms for your children allows you to have your bathroom all to yourself (Here is a look at some of the most important features for your master bathroom.). Another advantage is that you can customize the rooms to meet the needs of your kids. If you have smaller children, you can build in step stools that make it easier for them to reach the sink for washing and brushing teeth. You might think twice, however, about installing lower cabinets and counters. That's something you'd likely have to replace as your kids get older.
Playrooms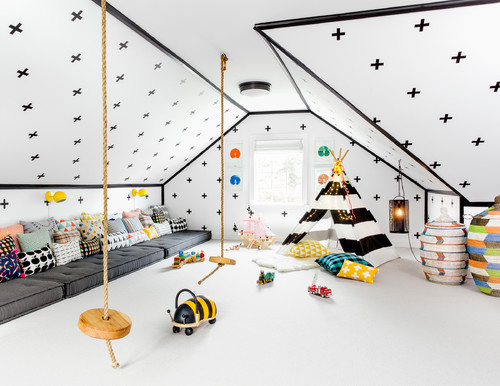 Setting aside a special room devoted entirely to play is a great way to ensure your kids will love their new home. If you build a home with a basement, you will probably have space for a large play space that could accommodate a lot of different activities—and even sports such as soccer or basketball (on a smaller scale). Some families build in small climbing walls. If your kids are creative, you could dedicate a room to art projects or crafts.
Homework Spaces
Most parents pay close attention to the schools in the area before building a new home. But homework is a big part of education. And while your kids may not be thrilled about having a special space to do homework, it's something you'll probably want to think about. You can build a dedicated space into their bedroom, or you might consider allowing space for that in the kitchen in case your children need some help (or supervision).
Music Room
If you have a child that is musically inclined, you might give some thought to having a music room or practice room. Not only will it provide the necessary privacy (away from distraction), but you can also insulate the room so that the rest of the family doesn't have to participate in practice.
Think Outside the House
Not all activities have to happen inside the home. If you think outside the house, you might want to build a tree house, or a clubhouse in the back yard. It's a fun way for kids to be one their own—and still at home. Other things to think about are creating areas for sports—such as a small basketball court or an area where kids can practice soccer.
Kid & Adult Friendly Features
Having kids can be a dirty experience. That's never going to change. It's part of having kids! It is, however, one reason that features such as having a dedicated main-level laundry room and a mudroom are often considered "must-have" features for custom homeowners.
Kids remember their homes all their lives. Use your creativity to create spaces that will bring back fond memories for your kids long after they leave home.