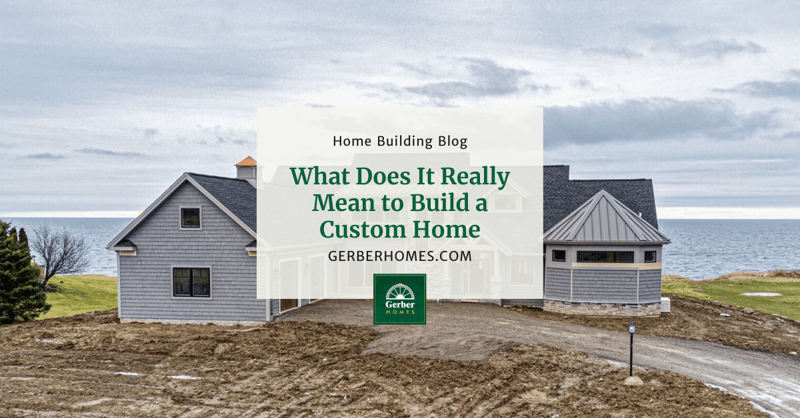 Often, when people think about custom homes, their thoughts turn toward luxury features. Images of expensive stonework, exotic woods, and gold-plated bathroom fixtures come to mind. Although luxurious fixtures and features can certainly be part of your home, building a custom home involves is a little more involved than many homeowners realize. So, what does it really mean to build a custom home?
There's More to Custom Homes Than Spending More Money
While it's true that you'll spend more for a custom home than you will for a "production" home in a large new home development, the custom home building experience really isn't about opulence—it's about customization. That means building a Rochester-area home that fits your family's lifestyle perfectly. It means designing the space and the look of the home so that it reflects your personal sense of style—and the way you live and entertain.
Just because you're building a custom home doesn't mean you'll be writing a blank check. You'll still have to pay attention to your budget and carefully consider which features and finishes you want to include in your home. (This article cautions about some of the surprising places that your Rochester custom home could cost more—and how to prepare for those surprises.)
The Custom Home Building Process
When you buy a production home, the process is fairly straightforward. You select a lot on the builder's site, choose from one of a few floorplans available, and wait for your house to be built. Custom home building involves a few additional steps. The custom home process involves:
Selecting a Site:

Although home builders who offer production homes already have sites selected, that may not be the case when you build a custom home. You may need to build a few extra weeks into your home building schedule to find the ideal lot for your new home. In some cases, custom home builders also offer lots for sale. (You can see our available lots here

.)
Preparing the Land:

The land you buy may not be suitable for building without a little work

. Your home builder may need to clear rocks and debris, request that utility companies extend water and electrical lines, obtain surveys and permits, and conduct

perc tests

. Perc tests evaluate drainage and determine whether septic systems can be added to the site.
Choosing a Floor Plan: Although you may be limited to three or floor plans if you build a production house, that's not the case with custom homes. In fact, you can choose from one of the many floor plans Gerber Homes offers or use your own plan.
Customizing Your Floor Plan: Like most of our customers, you'd probably like to make a few changes to your floor plan. Fortunately, that's not a problem when you're building a custom home. We'll be glad to modify your floor plan any way you'd like. Remove a wall, expand your kitchen, add a fireplace or make any other change you'd like. Do you want a walk-in pantry, dedicated game room, floor-to-ceiling windows, or a garage big enough to fit your car collection? We can alter your plans to create a home that's anything but cookie-cutter.
Picking Features, Finishes, and Appliances: As a custom home buyer, you'll get to choose every detail of your new home, from flooring to siding to countertops.
What Custom (Can) Look Like
The easiest way to explain the custom home building experience is with a few examples.
Here's a great room in a custom home we recently built. You'll notice that there's nothing "typical" about it, from the woodwork and lighting in the great room ceiling to the unique fireplace and the stunning hardwood floors. It's light and bright and open (making it a great place to entertain). And even though it's an open floor plan, there are design elements to clearly delineate between the great room and the kitchen/dining area.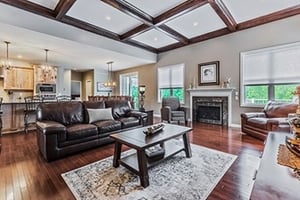 The unique cabinetry in the kitchen reflects the homeowners' personal style and preferences. You can certainly tell from the range and hood that this is a family that enjoys cooking. The homeowners choose a kitchen island that accommodates food prep and casual dining. Although your kitchen might not be outfitted with appliances for gourmet cooking, this home gives you an idea of the possibilities.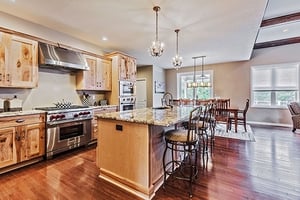 The master bathroom is another area where custom homeowners like to include something a little different. These owners added custom bathroom cabinets and countertops, in addition to a walk-in shower with a large shower head.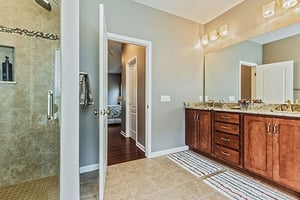 Of course, you could add other features that personalize your bathroom and make it more comfortable, like a steam shower, or heated flooring for those cold Rochester mornings. Another custom feature that's become popular is a separate, private compartment for the toilet.
You'll notice that this custom home master bathroom looks a little different than what you'd find in a standard production home. Notice the unique ceiling that adds depth and visual space to the room. If this were your home, you might choose to extend the room to include a larger reading area—or perhaps include a built-in audio/visual center that hides away when it's not in use.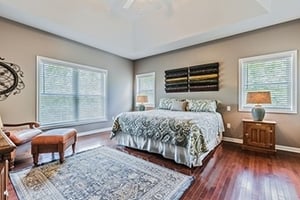 Sometimes the location and lot you chose is one of the most significant custom elements of your home. You can see from this image that the custom home we built takes advantage of fantastic views of open space—including a pond in the back. It's no wonder that these homeowners opted for full-length doors at the back of the home that leads out onto a patio that lets them enjoy the scenery.
Want to See More?
Although floor plans give you a sense of a home's layout, there's nothing like seeing a house in person. As you walk through one of our model homes, you'll probably find it easy to decide if you'd like to make a few changes or if the design is perfect as it is.
We currently have several model homes available for tours including:
Lot 5, 6117 Holly Creek, Ontario: This 1,408-square-foot Hawthorne floor plan includes two bedrooms, two bathrooms, and a two-car garage. The kitchen is open to the great room and dining area and includes granite countertops and a large island with a sink and dishwasher. You'll also find a first-floor laundry room and a gas fireplace in the great room.
Lot 25, Shorewood Trail, Ontario: The two-story Anaheim floor plan with a garage (2,363-square-feet) offers plenty of room for the entire family. It includes an open floor plan with a kitchen island and fireplace, a two-story foyer, a private first-floor study, a large, second-floor master bedroom suite, and two additional bedrooms, in addition to a bonus room over the garage.
Lot 6, 6113 Holly Creek Ontario: At 1,362-square-feet, the Harding floor plan offers three bedrooms, two bathrooms, and a two-car garage. The open floor plan is ideal for entertaining and includes a gas fireplace, granite countertops, and a large island. The walk-out basement can be finished into a game room, bar, home theater, guest suite, or anything you'd like.
We also offer virtual home tours of many of our floor plans, such as this spacious Van Buren with four bedrooms and a first-floor study.
You Have Choices
At Gerber, we offer a variety of great floor plans, one of which may be perfect for you. If one of those floor plans meets your needs, that's great. But if you're after something more specific—a design that really reflects your personal sense of style and lifestyle, download our free Custom Home Guide. The guide explains all the steps you'll need to take if you want to build a custom home, including setting a budget, selecting your building team, finding the right home site, negotiating the contract, and actually designing the home of your dreams!