There's no way to overstate the importance of the kitchen in your Rochester area home. It doesn't matter if you're building a brand new custom home or remodeling your existing kitchen. It's one room you simply want to get right.
But just what does it look like when you get the kitchen right? What should be your biggest considerations when building or remodeling your Rochester-area home?
It's easy to focus on the visual impact of your kitchen. It's important, too. But having a great kitchen is about more than having one that just looks great. Yes, you'll want to pay attention to the cabinets you choose and the flooring and countertops you select. If you really want to have a kitchen you love spending time in, you've got to start with some things that are more basic.
Your Kitchen's Layout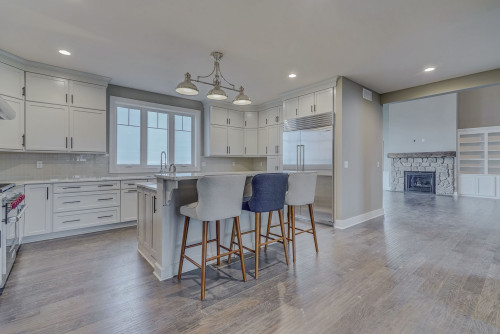 You'll want to make sure that your kitchen is laid out to fit the way you want to use it. Will you do a lot of entertaining in your kitchen? If it's going to be a place where people congregate you'll want to make sure there's adequate space for moving and mingling. Do you plan to do a fair amount of cooking? If so, you'lI want to ensure that the layout is structured to make the various parts of your kitchen ideal for different cooking functions (cleaning, chopping, mixing, etc.). If you plan to eat casual meals in the kitchen with your family, you'll want to make sure you have adequate space to sit and still have plenty of room to cook.
Your Kitchen's Lighting
Don't underestimate the importance of good lighting for your kitchen. It's not just a matter of making things bright enough. It's important that you locate your lighting strategically. Make sure you have proper task lighting where you need it for preparing meals—but that you also have separate ambient lighting when you use your kitchen for entertaining.
Your Kitchen's Relationship to Other Rooms
Open concept floor plans continue to be very popular, but what that means is that your kitchen will also be on display to other rooms in your home. People across the US are opting for this type of floor plan as it makes entertaining a breeze! You don't have to worry about being separated from your guests as you prepare meals or drinks. You'll also be able to keep an eye on your children while you're working in the kitchen.
If you'd like additional ideas about creating a great kitchen for your Rochester home, please click here to download our Creating the Ideal Kitchen eBook. In addition to providing great ideas, it will help you plan ahead to ensure you end up with the kitchen that's ideal for you.