When you're designing the kitchen in your custom home, think about what part of the kitchen gets the most use—and the most views. It's probably the combination of your cabinets and your countertops. And when it comes to daily use, your countertops probably bear the burden of the most wear and tear. So, what's the key to choosing the countertops for your Rochester custom home?
Keep in mind that your kitchen is a multi-faceted, multi-functional room. Chances are good that you use it both for food preparation and for entertaining in your home. That means your kitchen needs to look great and stand up to daily use.
Here are some things that you'll want to consider:
Style
Your personal sense of style can be reflected in the countertop material you choose. If you're after a sleek, modern look for your kitchen, you have several choices. Granite countertops have been the "go-to" choice for upscale kitchens for a long time. They remain extremely popular because of their beauty, elegance, and unique natural patterns. Quartz countertops, however, are hard on the heels of granite and have even surpassed granite in popularity in some areas.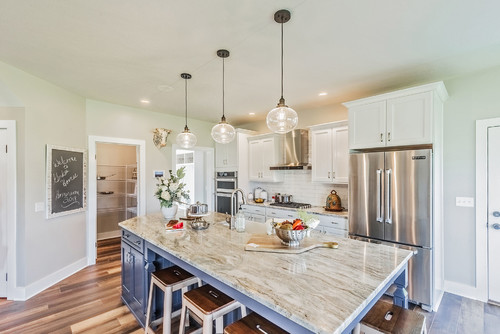 Concrete countertops are another option. Many of the concrete countertops you'll find today look like natural stone—and you can essentially choose your color. And, if you're a fan of industrial chic, you might want to consider a "plain" concrete top for your counter. If you're after a warmer look, you may want to look at a butcher block countertop. You can create beautiful countertop—and you can cut right on the countertop.
Durability
All of the countertop materials mentioned here are quite durable. Granite can be somewhat susceptible to staining (from things such as red wine), but you can treat your granite counters yearly to protect them. Concrete is extremely hard and resists chipping and scratching. They're also very heat resistant, and easy to maintain. You can expect your counters to last for decades with a minimum amount of basic maintenance. Butcher block counters will require more maintenance—and are not as heat resistant as natural stone and concrete.
Price
There is a fairly wide range of costs for various kitchen countertops. A recent (2019) homeadvisor.com post offers a quick guide to pricing. Your specific price will vary, but this provides a kind of baseline for costs.
Granite will run you between $15-$140 per square foot
Engineered Stone Quartz can cost between $15-$70 per square foot
Wood/Butcher Block generally runs around $10-$38 per square foot
Concrete costs around $50-$100 per square foot
Think About the Sink
Of course, you'll want to match your kitchen countertops with the right sink. So, keep that in mind as you choose your materials. Do you want an under-counter mounted sink (similar to the one in the picture above)? Do you prefer a single large basin or a double sink? Think about what kind of fixtures go best with the material you choose. Sleek modern faucets look great with quartz, granite, concrete, or even laminate countertops. You might want something more rustic or casual with a butcher block or other wooden countertop.
If you're looking for more ideas and inspiration for the rest of your kitchen, we invite you to download our free Creating the Ideal Kitchen eBook. It's packed with information about kitchen style, functionality, and how to plan for your new kitchen.