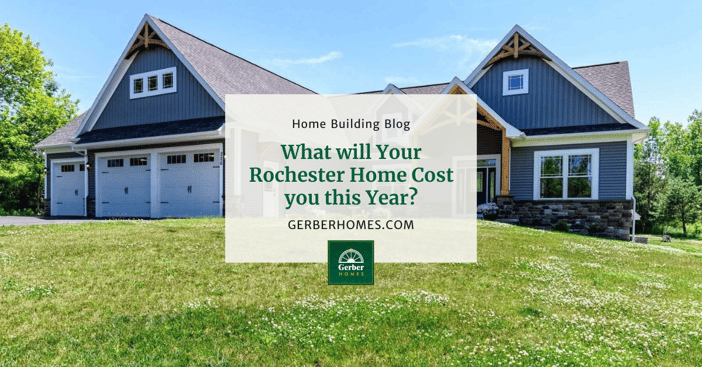 Our family has been building homes in the Rochester area for more than 50 years. In fact, we've built more than 3,000 homes in that time. And there are one question potential homeowners have asked us every single time: "How much is this going to cost?"
We're actually kind of
glad
when someone asks us that question because anyone who jumps into the home-building process without considering the cost is probably headed for trouble. Talking about the cost of building a home is a reasonable and responsible thing to do—and we're happy to do it.
How Much Does a Rochester Home Cost to Buy?
Realtor.com reports a median sold home price of $158,700 in the Rochester area. Since that figure is just an average, your dream house may cost more or less. The price you'll pay for a home varies depending on several factors, including:
Age of the Home:

Older homes may be priced lower because they require more maintenance. You'll pay more for a newer home or an older home that's been recently renovated.

Size of the Property:

Generally, the bigger the home, the more you'll pay. Of course, there are exceptions to that rule. You may be able to get a big house for a low price if it requires lots of updating or repairs.

The House's Floor Plan:

The floor plan may also affect the price. Homes that have confusing layouts or small kitchens or bathrooms may be priced lower than neighboring houses that offer better flow from room to room and larger room sizes.

Location of the Property:

Location is one of the key factors in determining a home's price. Homes in good school districts and well-maintained neighborhoods will be priced higher than comparable homes in neighborhoods with poorly performing schools and run-down houses. Other location factors may also affect the price. If a house is located close to stores and other services, you may pay more, while homes close to an airport or railroad tracks tend to sell for less.

The Home's Lot Size:

Larger lots offer increased privacy and the space to put in tennis courts, pools, gardens, and play equipment for the kids. Choosing a home with a large lot will increase the price and value of the property.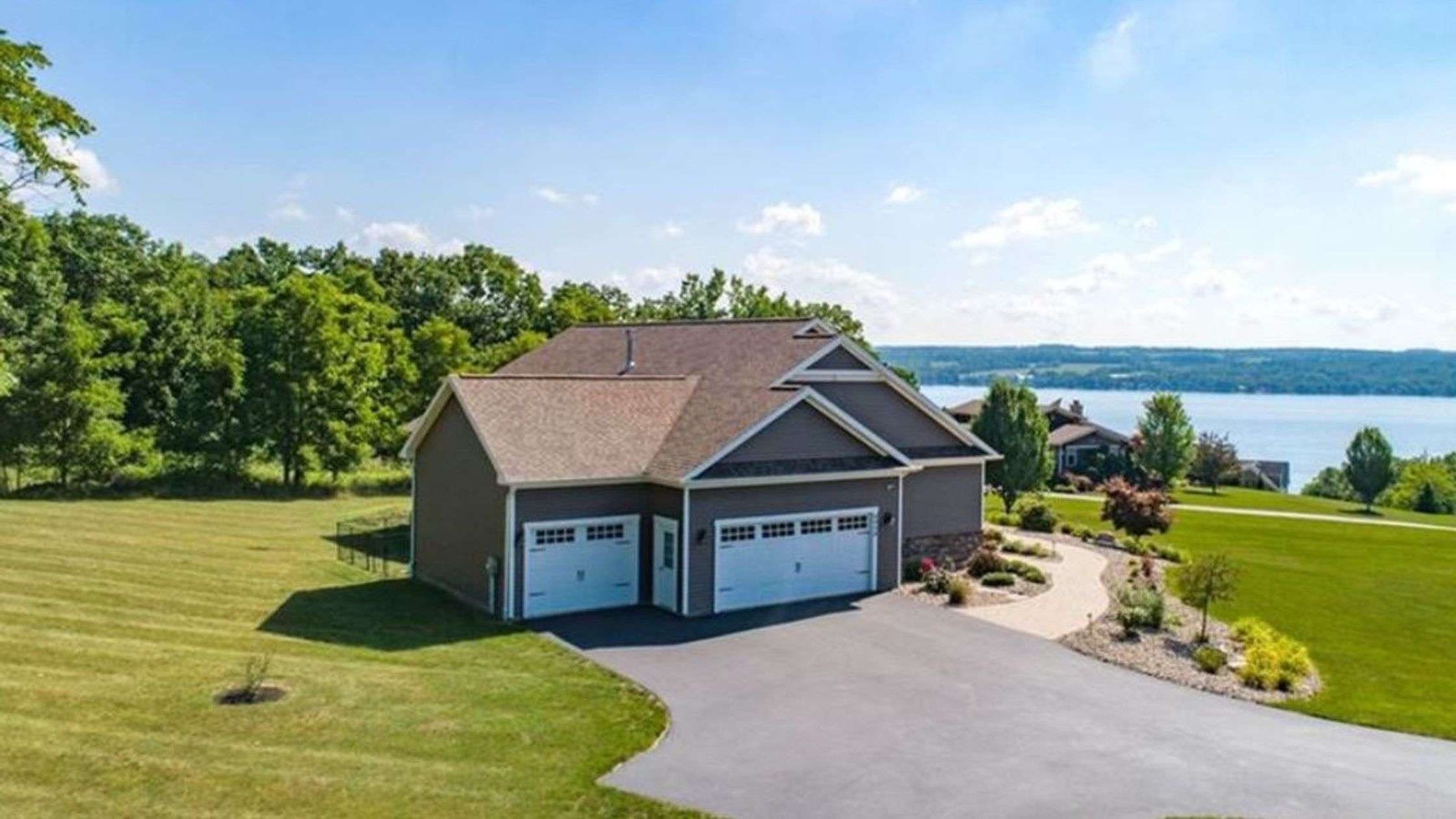 What is the Cost when Building a Custom Home in Rochester?
When prospective homeowners ask about the cost of building a new home, many of them do so in terms of the cost per square foot. The national average for building a home (aside from the lot itself) runs between $220,630 to $362,450 but this varies from your personal customizations. Our pricing at Gerber runs approximately from $185 per square foot. In association with site development, this is extra and can range from $20,000-$50,000 if you're building on raw land.
Why is there such a range? While several factors can enter into a home's cost, for the most part, the difference in cost comes down to two main factors: The complexity of the home's design and what materials will be used in the building (and finishing) of the home.
The Complexity of the Home Building Plan: At the risk of oversimplifying things, simple designs are easier to construct. A basic rectangle takes less time and material to construct than something with a lot of angles. Fewer materials and less labor mean lower costs. So even if you have two homes that are 3,000 square feet in size, the home that is less complicated to build will cost less.
The Materials needed to Build the Home: Since it is one of the more expensive rooms to build in a house, let's use the kitchen as an illustration. Granite countertops cost more than laminate countertops. Hardwood or stone flooring costs more than vinyl flooring. Solid wood cabinets cost considerably more than fiberboard cabinets. A natural stone sink will cost more than a basic stainless steel sink. It's not just the materials themselves that are more expensive. Some materials are harder to work with and require a lot of expertise. That ends up costing more.
There is one other area that can cause homebuilding prices to vary: Customer-requested changes. It's not wrong to request changes, and it doesn't have to be overly expensive. But making a lot of changes—particularly after construction has started—can drive the cost of your home up. Here's a helpful article about how to control cost creep when building your home.
Although price is certainly a key factor when you're buying a new home, you'll also need to consider your lifestyle, family size, and hobbies when making your decision.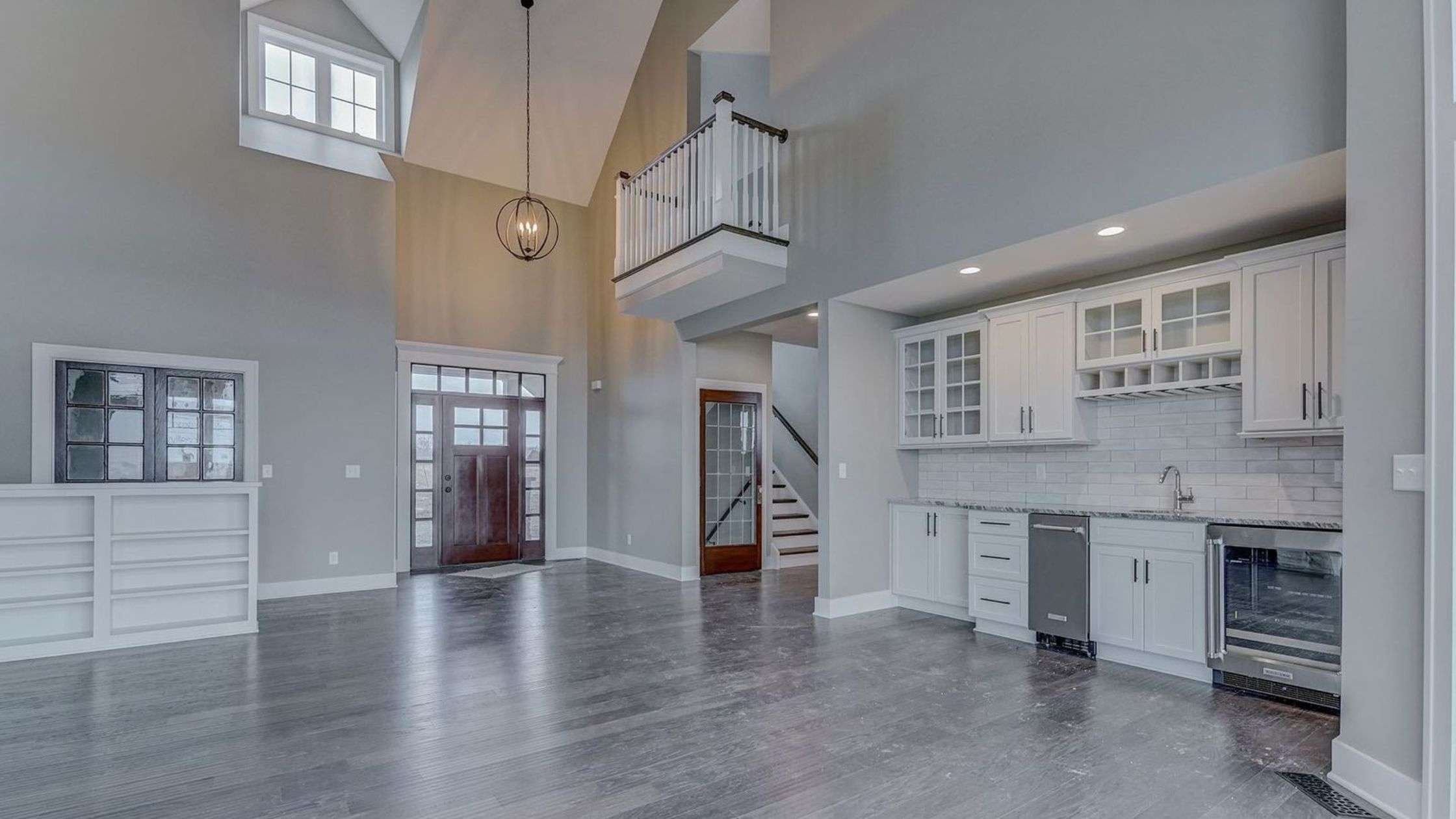 What type of Floor Plan will you use when Building your Custom Home?
If you're looking for a home to accommodate your growing family, The Buchanan is an excellent choice. Pricing for the 2,583 square foot home begins in the mid $300s (plus fees for the lot and site work) and includes four bedrooms and 2.5 baths. The first floor features a large foyer, a spacious kitchen that opens to the great room and dining area, and a separate study. A generously sized master bedroom suite includes a huge master closet, luxurious bathroom, and comfortable sitting area.
Have you ever toured a new home and noticed that the master bedroom suite ate up nearly all the space on the second floor? That's certainly not the case with The Buchanan. Secondary bedrooms are 12' by 12' or larger and provide plenty of room for your kids or guests to spread out.
Are you planning on aging in place? We offer a variety of single-floor homes that make it easy to remain in your home even if you face mobility challenges as you get older. The 1640-square-foot Boise is priced from the high-$200s (plus lot and site fees) and offers a large open kitchen and dining room, impressive great room with a fireplace and tray ceiling, two-car garage, first-floor laundry room, master bedroom suite with twin sinks in the bathroom, two additional bedrooms, and a second bathroom.
If you're looking for the perfect home for entertaining, The Springwater just might be your first choice. Starting from the high $300s (plus lot and site work fees), the home's public spaces are large enough to hold a crowd. At more than 13' x 15' feet, the kitchen offers plenty of room for multiple cooks and is open to the great room (18'4" x 16') and the family dining area (13'4" x 14'4"). When you choose the finished basement upgrade, you'll have plenty of room for a home theater, game room, or bar. The four-bedroom, 3.5-bath home also features a large, comfortable master suite, first-floor study, and two-car garage.
What will your Rochester-area home cost you? That depends on the size and complexity of the home you choose, and on which materials you use to build it. The smart way to approach the situation is to decide on a realistic budget and then work with your builder to find/create a plan that will give you what you want within that budget.