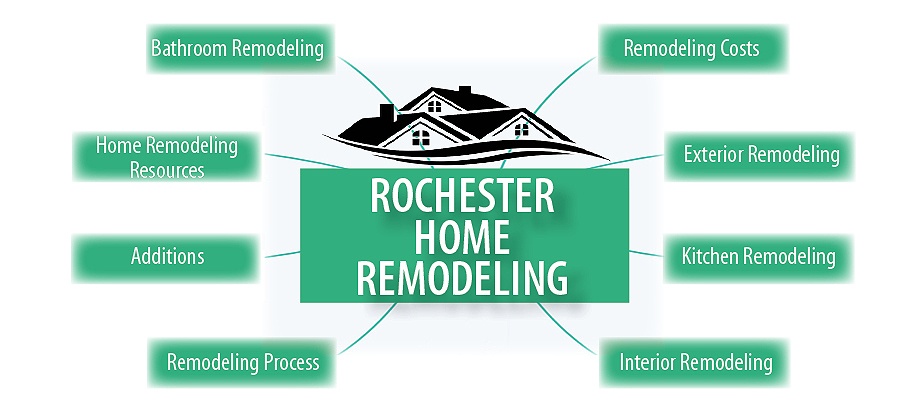 Remodeling your Rochester home isn't something you'll want to take casually. It involves a lot more than simply slapping on a new coat of paint or changing some light fixtures to freshen things up. It's a chance to turn your Rochester home into a more comfortable, convenient, and enjoyable space for you and your family. It's a chance to customize your home to better suit your lifestyle and your personality. That kind of change, however, doesn't just happen. You'll want to be prepared so that you can make the most of the situation. Here are some of the essentials you need to know about Rochester home remodeling.
Identifying Exactly What You Want From Your Home Remodeling Project
First of all, it's important to identify exactly what you want to accomplish with your home renovation project. Do you need more living space? Where do you need it the most? Do you want to open up space in your home so that it feels larger (even if you don't add square footage)? You might want to think about a remodel that incorporates an open floor plan to accomplish that (and let in more light).
You'll also want to think through how much you want to take on at one time. There may be multiple areas you want to change, but it's helpful to start with the ones that address your most pressing needs.
Remodeling Costs
Another essential to ensure a successful home remodel is having a good handle on what your costs will be—before you begin. It's easy to fall in love with gorgeous homes you see online, but everything has a cost. You need to figure out how much you can reasonably spend on a project. We're not talking about cutting corners to save money. If you do that you won't be satisfied with the results down the road. It's important to balance cost and value when planning a project. Both are important.
It is important, however, to have a realistic budget and stick to it. One way to do that is to meet with a lender to see what kind of loan you qualify for. Then talk to a contractor about what a realistic plan is for the amount you're planning to spend.
A big mistake many homeowners make is overspending their remodeling budget. Remember, one of the main reasons to remodel is to be more comfortable in your home and to enjoy it. It's hard to do that if you're overextended. Here's an article that looks at three reasons homeowners tend to overspend their budgets—and how you can avoid doing it.
Once you establish your needs and your budget, you'll want to get down to more specifics. Not all remodeling projects are the same, and you'll want to think about different details depending on what kind of project you're taking on. While you can renovate any room in the house you choose, here are some of the most commonly remodeled areas of the home. By the way, there are two main reasons these projects are so popular. They tend to deliver the most "bang for your buck"—both in terms of the return on investment (resale value) and in terms of comfort and convenience for your family.
WHAT KIND OF PROJECT DO YOU HAVE IN MIND?
Kitchen Remodeling
We've all heard that the kitchen is the heart of the home. It's truer today than ever before. While kitchens used to be isolated from the rest of the home, they are now often the center of activity. It's where much of family life takes place: cooking, homework, family meetings, and entertaining are just a few of the activities that take place in the kitchen. Your kitchen is much more than just your appliances and your countertops. That's why you'll want to give some serious thought to how your kitchen is designed. Here's a post that highlights important things to consider when designing your Rochester home's kitchen.
Bathroom Remodeling
Bathrooms run neck and neck with kitchens as the most remodeled room in any home. There's more to a successful bathroom remodel, however, than just putting in a new sink or toilet. Your guest bath (or Powder Room) is a room that all your guests will see. You'll want it to be comfortable and inviting. Your master bathroom, on the other hand, is your private space. You'll want it to be a place that offers comfort and makes getting ready for your day easy and stress-free.
Interior Remodeling
Many times homeowners are simply looking for more living space in their homes whether it's for entertaining, working, additional sleeping space, home entertainment, or for hobbies. Your basement can be an incredible source of untapped (and potentially useful) space. Your garage may be another untapped source of useful space. A converted garage can be a great place for a home office. It's also ideal for a craft room, an art or pottery studio—or a room for older kids to hang out with their friends. Bonus room conversions are another fantastic way to create flexible space—whether you need a home office, an extra bedroom, or an entertainment room. Because it uses existing space, it's a quick and affordable way to add needed living space to your home.
Exterior Remodeling
Not all remodeling, of course, has to take place inside your home. Sometimes what's outside your home matters just as much as what is inside. There's just something special about coming home to a home that's beautiful inside and out. Of course, an exterior renovation can add significant curb appeal to your home should you decide to sell at some point. But exterior features (such as porches and decks) also add to the usable space of your home. Take a look at a few examples of how great exterior remodels can make your home look—and how they can add functionality.
There are a few other things that are essential in order to ensure great results when you remodel your Rochester home. They really have more to do with information and educating yourself than anything else.
Remodeling Process
The better you understand the remodeling process, the better your results will be. A big part of understanding the remodeling process is having a good grip on your responsibilities during remodeling. When you fulfill your responsibilities, it helps keep the project on schedule—and that reduces stress for you and your contractor. One of the most important tools at your disposal is your remodeler's knowledge and experience. Of course, that's one reason why choosing the right contractor in the first place.
Remodeling Resources
Finally, there is simply no substitute for knowledge. Educating yourself about the remodeling process and about specific kinds of projects is so important. It helps you learn to ask the right questions—which puts your mind at ease. It also helps you gather ideas—and even come up with your own that you can run past your remodeler. We're committed to helping prospective clients get the information they need before they begin the home remodeling process. It's why we offer free downloadable remodeling resources such as our:


Bathroom Remodeling Costs Guide, that helps you budget properly for a great bathroom remodel based on actual current remodeling costs for the Rochester area
Remodeling your Rochester area home may not be something you'll want to take lightly, but the good news is that with the proper information and resources it's not something you have to take on all by yourself. The more you know about the process and your options, the better your results will be. Remodeling can actually be a fun and exciting adventure. We'd love to join you in that process!