Building a custom home is an exciting adventure. At the same time, it's an undertaking that's different than anything you've done before. Even if you've purchased a home before, building a custom house is different. While it's easy to dive right into the fun stuff (color schemes, finishes, décor, landscaping, etc.) you'll want to make sure you understand how everything comes together so that you achieve the results you want. That's why it's important to understand the custom home building process when building your Rochester-area custom home.
Before You Start Building
There are a number of things that you need to pay close attention to before your contractor starts excavating or building. Here are some of the key parts of the process.
Think About Where You Want to Live
Where you choose to build your home is as important as the design and the floor plan. Your choice of location may be influenced by the schools in the area, the amount of privacy you want, the size of the lot you think is appropriate, the length of your commute—or a host of other factors. Here's a post that takes a closer look at things you'll want to think about when considering where to build.
Make Sure Your Home Fits Your Lifestyle
As you check out neighborhoods in the Rochester area, you may notice certain homes that are visually appealing to you. You're likely to come across Colonial-style homes, 1st Floor Master bedroom homes, Cape-style homes, Raised Ranch-style homes, and more. Curb appeal is important, but just because you like the way a home looks from the outside doesn't mean that the home will fit the way you live.
Think beyond the external appeal of the house. What kind of home fits your lifestyle? Do you prefer multi-level living with bedrooms on one level and common rooms on another? Do you plan to entertain frequently? If so, what style of home lends itself best to the kind of entertainment you enjoy? Are you in a "kid-centric" phase of life, or are you looking for a more "mature, empty-nester" style? The beauty of building a custom home is that it's definitely not a "one-size-fits-all" proposition. You get to choose what fits your needs best. Here's a post that explores how to select the kind of home that fits your family's lifestyle.
How Much Do You Want to Customize?
A basic floor plan can help you visualize how the space in your home will be laid out and how things will flow from room to room. But you can take a basic floor plan and make modifications so that it better suits your specific tastes and needs. You'll have to decide exactly how much you want to customize. Will you want things like built-in shelving? What about higher ceilings on the lower level? Do you want specialty materials for flooring or counters? Will you install standard design cabinets, semi-custom, or totally unique cabinets? Keep in mind that the more you customize, the more you'll spend. It can also increase the timeline for completion.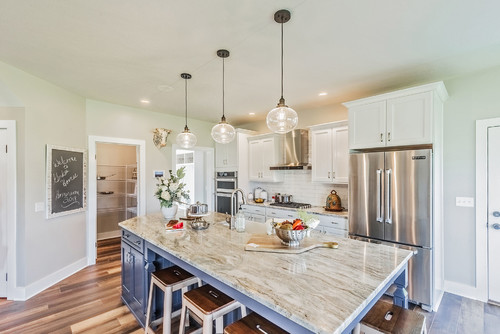 Understanding the Steps in the Process
After addressing the issues above, you'll be ready for the next steps. It's also helpful for you if you understand the steps in the process. Things happen in a deliberate order. And while some things may happen concurrently, nothing happens overnight. You'll feel more comfortable with the progress if you understand the process. Here's a look at how we work through the custom home building process at Gerber Homes.
Meet with Your Sales/Design Consultant: During this one-to-three-hour meeting (at our office or at one of our model homes) we'll work together to fill out a form that covers all of your selections for the colors and materials for your home. We'll ask you lots of questions about your expectations, to make sure we're all on the same page. We'll actually show you samples of the materials we plan to use so that there are no surprises. You'll be able to see examples of things such as roofing and siding materials, interior doors, and trim materials.
Meet with Suppliers: This is where you'll have a chance to look at items such as kitchen cabinets, flooring options, plumbing fixtures, and more. We invite you to visit as many of the suppliers as you like—or simply focus on the ones that are most important to you. We always have design consultants on hand to answer your questions and help you make the selections that are right for you.
Blueprint Review Meeting: During this meeting, you'll be able to make sure that the blueprints we've drawn up for your home accurately represent your wishes. I'll meet with you personally in our office to go over these plans. This usually takes about two hours to review the plans and the selections you've made. We'll actually go through a checklist (based on things our clients have told us they'd wished someone had asked them before construction started) to ensure we cover everything that's important to you, including:

Where will my basement windows be located?

Where will my furnace be located?

Which way will the doors in the house open?

How wide will the doorways be?

What about the positioning of outdoor spigots?

Which way will my garage door face?
By the way, if you're more of a visual or auditory learner, click here to see most of this same information in video form.
Educate Yourself About the Process
The more you know about how things work, the more comfortable you'll be with the process. We've learned over the years that the better informed our clients are about the custom home building process, the happier they are with the results—and the more they enjoy the experience. That's why we offer some help in figuring out what those next steps are. If you'd like to learn more please download our free page custom home guide.