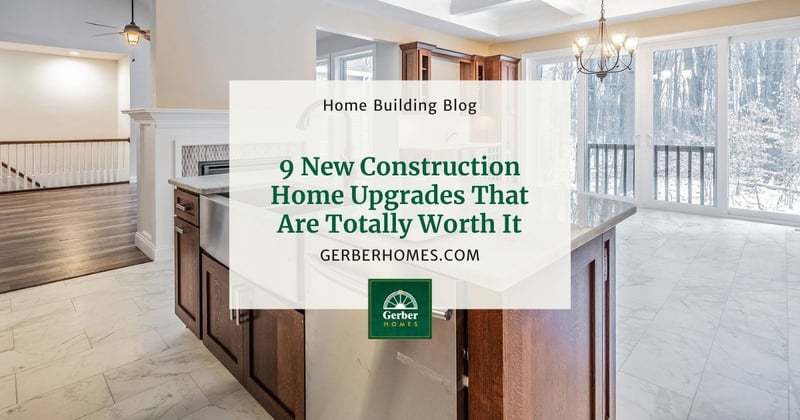 Welcome to the world of new construction home upgrades where we bring your dream home to life! If you're planning a custom home, get ready to take your living space to the next level. Gerber Homes is here to guide your exploration of a new world of custom possibilities, from drop zones that banish clutter to smart home upgrades that make life a breeze. Join us as we embark on a journey to discover the must-have features and splurges that are absolutely worthwhile.
Drop Zone
Step into countless homes, and you're likely to encounter a chaotic jumble of shoes, backpacks, coats, and sports gear near the entrance. That's where a well-designed drop zone and mudroom come in. With these new construction upgrades, you can bid farewell to unsightly clutter. Tailored to your needs, the drop zone offers endless possibilities for customization. From individual lockers for your kids' belongings to hidden storage behind thoughtfully crafted custom-made cabinets, your foyer can transform into an organized oasis. Embrace the convenience and elegance of a floor plan with a drop zone, a must-have for a seamless and organized living experience in your new home.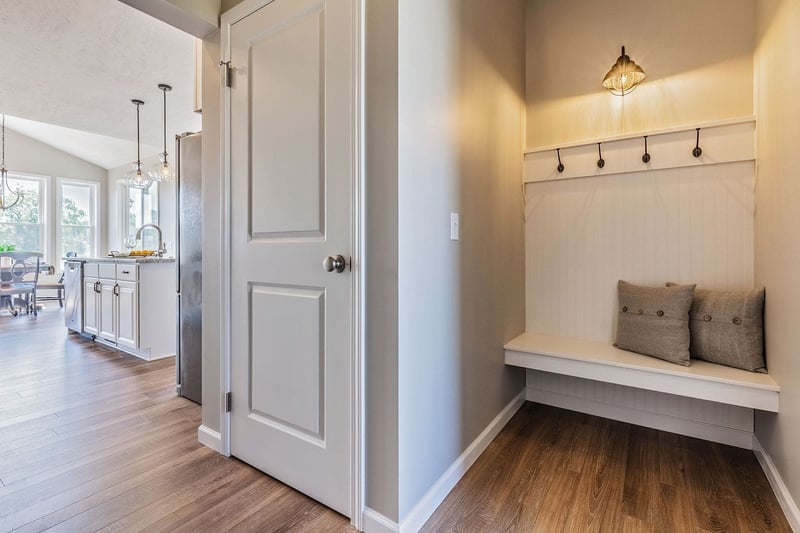 Easy-to-Maintain Wood Floors
Carpeting is a common choice for second-floor areas in many new homes. While it may appear pristine when freshly installed, it doesn't take long for signs of wear and tear to emerge. Even with utmost care, carpets inevitably lose their luster within a few short years.

Fortunately, there's a solution to this dilemma - upgrading your bedrooms with hardwood floors or wood-like alternatives. With advancements in printing technologies, luxury vinyl planks and ceramic tiles now replicate the authentic beauty of wood. Whether you opt for genuine hardwood or opt for the versatility and durability of vinyl or ceramic, your floors will exude timeless elegance, effortlessly withstanding the test of time. Say goodbye to worn-out carpets and embrace flooring options that guarantee long-lasting beauty throughout the years.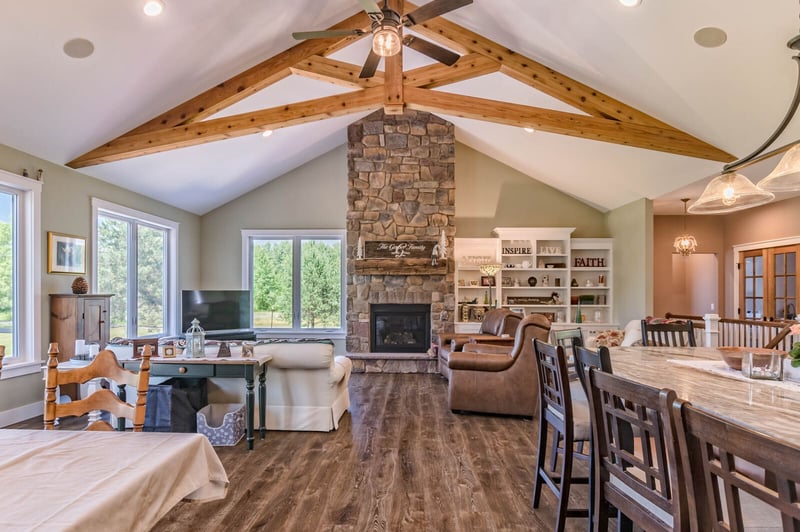 Finished Basement For Future Features
Finishing your basement offers a cost-effective way to double your living space. With the additional space in your lower level you can:
Increase the number of bedrooms and bathrooms
Add a game room, bar, or home theater
Install a sports simulator
Make room for crafts and do-it-yourself projects
Create a second family room
Build a secluded home office

Kitchen Island(s) Bliss
A kitchen island serves as a valuable addition to any culinary haven, offering not only ample storage but also a central hub for meals and conversations. When constructing your dream home, why settle for a standard-sized island? While most islands take on a rectangular form, chosen for its simplicity and cost-effectiveness, you have the opportunity to elevate your kitchen's functionality with a personalized upgrade.

Investing in a custom kitchen island allows you to break free from constraints. Tailor the island's size and shape precisely to your needs and preferences. Whether you require extra space for cooking or envision a dedicated area for entertaining, consider the possibility of adding a second island to your kitchen.
Dog Washing Station
Bathing your beloved canine in a regular bathtub comes with its fair share of challenges. In the blink of an eye, your furry friend can make a daring escape, leaving a trail of wet paw prints throughout your home. Fear not, for the solution lies in a dedicated dog washing station that not only safeguards your valuable furnishings and floors but also adds a touch of convenience to your pet care routine.

Consider incorporating a waist-high tub specifically designed for small dogs, sparing you from unnecessary strain on your back. If you have a larger breed, opt for a small shower stall equipped with a handheld showerhead for easier access and maneuverability. However, don't assume that functionality means sacrificing style. Your builder can seamlessly integrate the dog washing station into your laundry or mudroom, using tiles that harmonize with the overall design of your home. Pro tip: This is a great tool for families with kids who play hard, even without a dog.

Bonus Room Upgrades
Are you thinking about turning your bonus room into an office or bedroom in a few years? You'll save money when you finish the room when you build your house. It's always cheaper to incorporate finishing touches into a new build than to pay for a remodel in the future. Chances are your bonus room just may become your favorite place in your new house.

Smart Features Just Make Sense
In this digital age, integrating smart home features is becoming increasingly popular for homeowners seeking convenience, energy efficiency, and enhanced security. Upgrading your new construction home with smart technology will transform the way you interact with your living space.

Automated lighting systems can be controlled remotely, adjusting the ambiance with a simple tap on your smartphone or through voice commands. Smart thermostats offer energy savings by intelligently regulating temperature based on your preferences and occupancy patterns. Enhance your home security with smart door locks, security cameras, and alarm systems that provide peace of mind whether you're at home or away.

With the power of automation, you can synchronize various smart devices, allowing them to work harmoniously for seamless control of your home environment. From controlling your entertainment systems to managing your home's energy consumption, smart home upgrades are a must-have for modern homeowners looking to embrace the future of technology.
Luxurious Upgrades for Your Dream Bathroom
Your dream bathroom should be a sanctuary of relaxation and indulgence. By incorporating luxurious upgrades, you can create a spa-like atmosphere that provides a retreat from the stresses of daily life. Consider installing a soaking tub with a shower combination, allowing you to enjoy a long, tranquil soak or a refreshing shower, depending on your mood. Enhance the ambiance with LED bathroom lighting, which offers adjustable brightness and color temperature options, providing the perfect lighting for every occasion. To create a truly opulent experience, invest in elegant fixtures such as waterfall faucets, rainfall showerheads, and heated towel racks. Add a touch of personalization by selecting high-quality materials for your countertops, vanities, and flooring, such as marble or natural stone.

Custom Home Office for Optimal Productivity
As more individuals embrace remote work or require a dedicated space for personal projects, a custom home office has become an essential feature for many new construction homes. Designing an optimal workspace that caters to your specific needs and promotes productivity is key.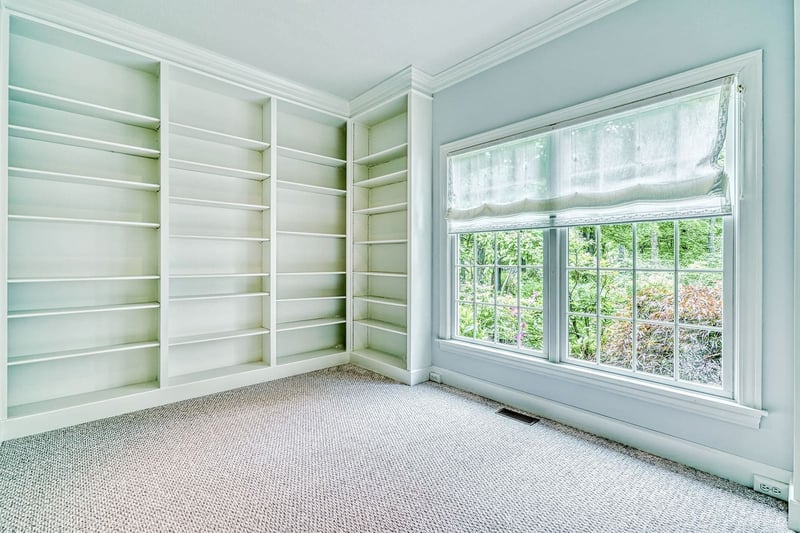 Start by considering the layout and organization of the office. Custom-built storage solutions, such as built-in shelves and cabinets, will keep your workspace tidy and clutter-free. As a rule, don't ever skimp on cabinetry. Design the desk and chair with ergonomic considerations in mind to support good posture and reduce strain on your body during long hours of work. Maximize natural lighting to create an energizing and vibrant atmosphere. Position your desk near a window to take advantage of natural light, which has been shown to enhance productivity and mood.
Gerber Homes Builds Your Finger Lakes Dream Home with Every Personalized Upgrade
At Gerber Homes, we understand the importance of creating a home that meets your unique needs and preferences. Our team of experienced professionals is ready to guide you through the process of building your dream home, incorporating the must-have features and upgrades that will make it truly exceptional.

Don't settle for a cookie-cutter house. Choose Gerber Homes to build your custom home and experience the difference that thoughtful design, quality craftsmanship, and attention to detail can make. Whether you want to buy a house in a new home community or build on your own land, we'll help you consider all the options.