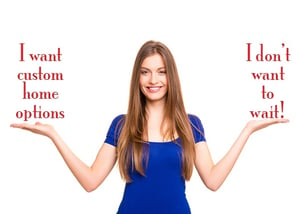 What can you do if you're the kind of person who wants customized features in your new home—but don't want to wait for a custom home to be built? Are you simpy out of luck?
It doesn't have to be that way! The good news is that Gerber Homes has a number of Model homes for sale with upgraded features that can be ready for move in when you are.
If you check out our inventory of available model homes you may find exactly the features you're looking for—without having to wait through the whole home construction process. We currently have homes in Summer Lake in Ontario, Magnolia Manor in Perinton, Briarwood Estates in Webster, Wishire Hill in Pittsford, and Old Brooside in Canandaigua. Of course, other savvy home shoppers will be checking out these homes as well, so some of them may not be available for long.
You can download floor plans and get additional information about these great homes. And in some cases you can even take a virtual tour of the home And you may even have the opportunity to customize final features to your liking.
That can be an ideal option if you're in a situation where a job change, a family addition, or some other unforeseen change in your family means that you simply don't have the luxury of waiting. It's also a very attractive option for people who want an upgraded new home and just don't want to wait for it to be built.
If you have questions about availability or specific features in any of these homes, you can give us a call at 1.888.437.2373. Or you can fill out the online form if you prfer getting information via email.
It's been said that good things come to those who wait, but sometimes really good things come to those who can't wait or simply don't want to!