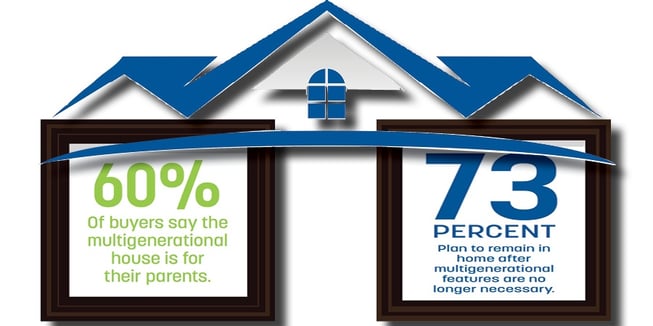 The upward trend of building multi-generational homes doesn't show any signs of slowing down. I've talked about multi-generational homes before, but there is some interesting new information out there about this trend.
Often, when prospective homeowners think or talk about a home that can accommodate more than one generation of a family it's because there is an older family member who wants or needs to move in. If that describes your situation, you know that there are certain features you'll want to build into your home that will make your home safer and more comfortable for aging parents. Here's a post that takes a look at some of those features.
According to a recent report, 60 percent of those looking to build a multi-generational house indicated they are doing it for their parents. That's not terribly surprising. But that same report indicates that 73 percent of those looking to build this kind of home plan to remain in the home even after the multi-generational features are no longer necessary.
What that means is that smart homebuyers are not only making choices that will meet the needs of their aging parents—they are also thinking ahead to what their own needs may be down the road. They are being proactive about the kind of home that they may want or need a few years down the road. They are also aware of the fact that building safety and comfort features now is a lot more economical than trying to come back in later to make those changes.
There is, however, another aspect to the whole multi-generational housing trend. Not everyone is building homes just to take care of aging parents. An increasing number of young adult family members are returning home after school until they can get their careers launched. But these young adults have lives of their own (as do their parents!) so it's important that any house that accommodates young adults (or aging parents) have a certain amount of privacy built in. Familial togetherness may be a beautiful thing, but even family members need their privacy.
That's the beauty of a floor plan like The Westcott. It offers two bedrooms and two bathrooms for the whole family plus a master bedroom and bath for the extended family. It's not just the number of rooms that makes this a great multi-generational home. The part of the home that's designated as the "in-law section" also features a full kitchen, a large living area, and a separate entrance. That means everyone in the family has his or her own private space!
That is one of the appealing things about multigenerational homes. They can meet a variety of needs; whether it's for your own aging parents, your adult children, or your own needs for the future. And that's why we don't think you'll see this trend going away anytime soon.