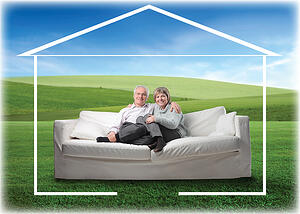 How long do you plan to stay in your home? The American Association of Retired Persons (AARP) did a bit of research fairly recently and found that nearly 90 percent of seniors want to stay in their own homes as they age. And 82 percent indicated that they wanted to remain in their own homes even if the require day-to-day assistance or ongoing health care during retirement.
The seniors interviewed in the AARP research also identified a number of housing features that they consider particularly important if they are going to continue to live independently.
Those features include:
Non-slip floor surfaces
Bathroom aides such as grab bars
Personal alert systems for emergencies
Entrances without steps
Wider doorways
Lever-handled doorknobs
Higher electrical outlets
Lower electrical switches
However, the AARP research also revealed that the majority of these features do not currently exist in most seniors' homes.
Of course wanting to stay in your own home and being able to do so can be two different things, and one of the keys to being able to stay in your own home is to get a jump on installing these features before they're absolutely essential. In a lot of cases, making these changes involves a bit more than running down to the local Home Depot or Lowes and picking up parts. We've been building and remodeling homes in the Rochester area for more than 50 years. We can help you make the changes necessary that will enable you to stay comfortably and safely in the home you love.
Some people approaching their senior years, however, may want to make a more significant move. Even though they may not need some of these features yet, they want to build a new home that will be comfortable now—and will allow them to remain there as long as they want.
If that's your situation, you may want to start the building process by reviewing floor plans that deliver the comfort and style you want now—but will also provide safety and security years down the road. We invite you to check out our wide range of floor plans. And you may want to pay special attention to our 1st Floor Master Plans and our Patio Home plans. Both deliver great designs that are easily adaptable to future needs.
Whichever direction you take, it's a great way to create a home you can stay in for years to come.