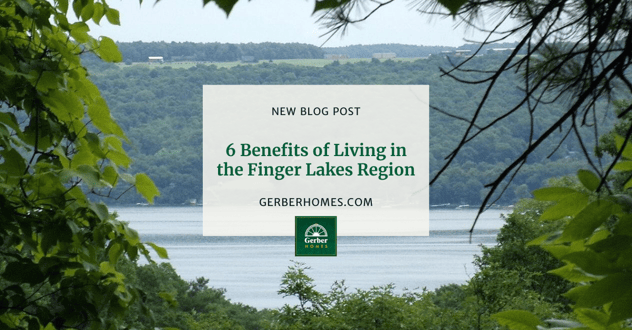 Balance is an important consideration when you're choosing the perfect location for your new home. A city with ample jobs may have a high cost of living, while an area with reasonable housing costs might not offer many cultural activities. Fortunately, you won't have to make any of these compromises when your new home is in the Finger Lakes area. Living in the region offers many advantages, including these important benefits:
Lower Cost of Living
You'll pay less for groceries, utilities and healthcare in the Finger Lakes. BestPlaces.net notes that the cost of living is 5.9 percent less the national average in the Canandaigua area, 7.9 percent lower in Ontario, and 21.6 percent lower in Rochester.
Home prices are also less expensive. The median listing price in Canandaigua is currently $279,900, according to Realtor.com. Other median listing prices include Webster at $219,900, Ontario at $245,200 and Farmington at $276,000.
Plenty of Room to Spread Out
City dwellers may settle for tiny lots with barely enough backyard space for a grill, but you don't have to. In fact, generously sized yards are the norm in the Finger Lakes. In fact, our company offers several new home communities with acre-sized lots, including Scout Reserve, Greenfield Acres, Mendon Estates and Meadowlands. Other communities with smaller lots are also available if you prefer a more compact yard.
Good Job Prospects
The area is home to many large and small companies in need of employees. Bausch & Lomb, Xerox Corp., Lifeline Healthcare, Harris Corp. Sutherland Global Services, Borg Warner, ITT Gould Pumps and Wegmans all have offices in the Finger Lakes region. Local hospitals, colleges and stores are also major employers.
High-Quality Educational Opportunities
The public school districts in the area offer low student/teacher ratios, a variety of sports and extracurricular activities, and challenging classes that prepare students to excel in college or in the workforce.
You won't have to drive far if you're planning to further your education. The Finger Lakes region is home to several community colleges and four-year institutions, among them the University of Rochester, Rochester Institute of Technology, Keuka College, Cornell University, Wells College, and Hobart and William Smith Colleges.
No Shortage of Things To Do
Your calendar can be as busy or empty as you like when you're a Finger Lakes resident. Museums, art galleries, music and theater performances, wine and beer trails, and annual events, including July 4th fireworks festivals, Maple Weekend, Naples Grape Festival, Clifton Springs Festival of Lights, Ganondagan Native American Dance and Musical Festival, National Lake Trout Derby and Phelps Sauerkraut Weekend, will keep you busy no matter what the season.
Of course, the lakes that give the region its name also provide plenty of recreational opportunities. Swimming, boating, fishing and other activities are available at Canandaigua, Seneca, Conesus, Honeoye and other Finger Lakes.
Delectable Dining Options
After a busy day exploring the area, you're bound to work up an appetite. From small mom and pop restaurants offering comfort food to high-end dining establishments, you'll find lots of choices if you'd rather leave the cooking to someone else.
Part of the fun of moving to a new area is trying a few of the local delicacies, like the garbage plates offered at many Rochester area restaurants. Visit Rochester describes the plates as "your choice of cheeseburger, hamburger, Italian sausages, steak, chicken, white or red hots served on top of any combination of home fries, French fries, baked beans and/or macaroni salad." If you have trouble limiting yourself to just one entrée, a garbage plate just may become your go-to dining choice.
Are you looking for the perfect place to call home in the Finger Lakes? One of our communities just may have all of the features you want. Contact us and let us know how we can help you in your home search.