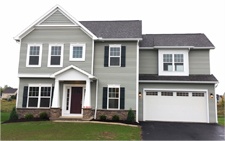 At Gerber, we've been building quality custom homes in the Rochester area since 1981. Naturally that means that we're well versed as to how a house comes together. There aren't a lot of things that surprise us in the homebuilding process! We realize, however, that for many of our clients, this is the first time they've been involved in this fascinating process, and we've discovered that having an understanding of what goes on when, can make the whole experience a lot more fun and exciting for them.
With that in mind, we'd like to take you on a visual walk through of the homebuilding process, using our Magnolia model as an example. So buckle up and enjoy the ride through the building of a Gerber home!
Site Development: This is where your builder makes sure you have access to important infrastructure such as water, sewer/septic, electrical, gas services—and even a driveway that leads to your garage.
Foundation: Every home has to have a solid foundation upon which to build. But there's more involved. Your builder needs to cover features such as: egress (for windows and doors), waterproofing of the foundation, drainage (both inside and outside the foundation) and insulation.
Framing: This is the step where your house actually starts looking like a house! Part of the framing includes weather wrapping to protect and insulate the house and the installation of high-efficiency windows.
Mechanical: During this phase of construction you'll see the installation of electrical systems (wiring and circuit breakers), HVAC systems (including high-efficiency furnace and the accompanying ductwork), and plumbing.
Insulation: The foundation isn't the only thing that gets insulation. Walls, ceilings, and basement walls are all insulated to keep your home comfortable and energy efficient. And we always do a blower-test on homes to ensure the insulation meets muster.
Interior Finish: This is the time when the drywall goes up and your rooms really start taking shape. It's also when the cabinets are installed (It's starting to look like a home!).
Finish: During this stage your electrical wiring is completed, your plumbing fixtures are installed, your countertops are put in place, and painting is done.
Flooring: Now it's time for the flooring to go in. This could include prefinished hardwood, ceramic tile for bathrooms, carpeting for bedrooms (or other rooms), or even resilient vinyl for some bathrooms or laundry rooms.

Bathrooms: Whether you've got a first floor powder room, a master bath with a ceramic tile shower, or a main bath with a fiberglass tub and shower, this is the time for their completion—including the installation of his-and-hers sinks in the master bath.
Exterior: This is when vinyl shake accents are added, stone garden wall accents included, insulated overhead garage doors (with windows) are installed, and vinyl window lineals and shutters are added.
Some of these things may take place at the same time, but this "walk-through" gives you a sense of what goes into creating the dream home you've always wanted.