If your current home no longer meets your family's needs, you might be considering the best housing options. One question you might be asking yourself is, "Should I buy a spec home or build a custom home in 2020?" Let's take a look at some of the pros and cons you'll want to consider—and whether the coming year is a good time to make a move such as this.
Building a Custom Home
Pros: The advantages of building a custom home are fairly obvious. You get to design a floor plan that best suits your specific needs. In many cases, you have the option of choosing the lot you want. You determine what finishes you want for your flooring, your cabinets, and your countertops. Additionally, you can also create a bathroom or a kitchen that is designed to enhance your lifestyle—and your sense of design. For many custom homeowners, there is a great sense of satisfaction in knowing that the home has been designed and built specifically for their comfort and convenience. And they enjoy the knowledge that no one else has ever lived in the home before them.
Cons: Building a custom home generally costs a bit more than purchasing an existing spec home. The exact amount will vary depending on the features and material required. Over the long haul, however, the value of the home is likely to remain higher. And given the fact that higher quality building means that fewer items will need to be replaced, it may make more fiscal sense. Some people choose not to build a custom home because they don't want to wait to move in. Others simply don't want to deal with the decisions involved in the custom home building process.
Buying a Spec Home
Pros: One benefit of buying a spec home is that it has already been built. This means that you not have to wait for construction to be completed before you can move in. In addition, most spec homes are located in newer communities, so the infrastructure (streets, sidewalks, sewers) is new as well. You also have the advantage of knowing that everything in the house is brand new from floor to ceiling. And if there are ever any issues, they'll most likely be covered by your warranty. From a financial perspective, you will probably pay somewhat less for a spec home than for a custom home.
Cons: Purchasing a spec home, however, still means accepting an existing floor plan. You may have to adapt your lifestyle to the layout of the home. Additionally, you won't have the same opportunity to add your own personal touches to your home as the selections have already been made. One last disadvantage is that you may have less choice when it comes to location or lot. The home you like best may not be on the lot you prefer, however building a custom home will give you the freedom to build anywhere that you'd like.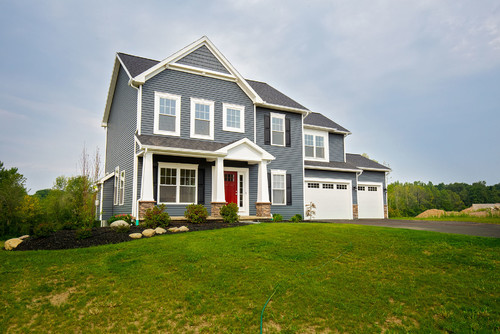 Ultimately, the choice of buying a spec home or building a custom home depends on what best suits your needs. If you'd like to explore the idea further, we build in several great communities in the Greater Rochester area and have dozens of beautiful floor plans that can help you start your planning for a custom home that will meet your family's needs.