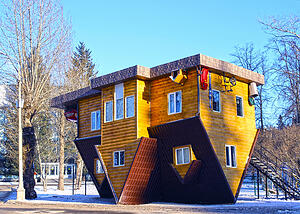 If you've decided that you'd like to build a new home in the Rochester area, one of the biggest decisions you'll face is whom you want to build your home. Here's a helpful post on some of the key characteristics to consider before you make your choice.
One of the things that homeowners may not consider when choosing a builder is creativity. How important is creativity when choosing your Rochester-area builder?
Let's clarify what we mean by creativity. You don't necessarily want a builder who tries to do something outlandish. For the vast majority of people, building a home is about creating a warm, welcoming, comfortable, and secure place to live—not about "making a statement." When we talk about creativity, we're really talking about offering different ways to satisfy your desires for that warm, welcoming, comfortable, and secure place to live.
That means being creative or flexible about where your house is built. Some builders are pretty rigid when it comes to home sites. They'll only build on the sites they own or have developed. A creative builder is open to other options and will even help you locate land, evaluate the site for suitability, and make recommendations about the style of home that fits the piece of property.
Creativity also means variety when it comes to floor plans. Again, some builders will only offer a very limited number of floor plan options. We're of the opinion that people need more choices. That's why we offer dozens of different floor plans from which to choose. People are different and they want different things from their homes.
It's also important to be creative when it comes to a choice of communities. Homeowners look for different character traits in the communities where they choose to live. Even a great house won't feel like home if it's located in a community that doesn't fit your personality and lifestyle. That's why we feel it's important to have a variety of options in the Rochester area.
So when you're considering a builder for your new home in the Rochester area, don't overlook the builder's creativity. And remember that creativity isn't about building something "unusual"—unless you're looking for unusual quality and an unusual variety of choices.