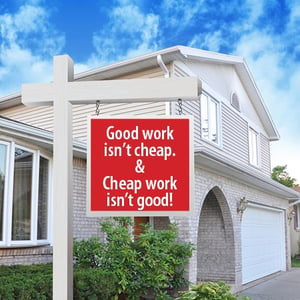 We all love getting a good deal. There's just something satisfying about that. But when it comes to building a new custom home, what makes something a good deal? Is it getting a home for the lowest possible price?
Because a home is a long-term investment, it's really important to think not just about price, but even more about value. You want your home to meet your needs and to be comfortable today—and for many more years.
We're committed to quality as well. That's one reason Gerber Homes helped the Rochester Home Builders Association to draft a 6-year warranty program that's recognized by the Rochester Realtors Association as well as the Bar Association.
One thing homeowners sometimes don't consider when looking at price is what kind of creativity comes with the price they are paying. When you're building a custom home, you want a builder who will come up with creative solutions to deliver the kind of home you want. Here's a helpful post that talks about what creativity matters when it comes to building your custom home.
You've probably heard it said that good work isn't cheap—and cheap work isn't good. Value always needs to be part of the equation. But what's a fair price for good quality? How do you know if the price you're being quoted for a home is a fair price?
When you're shopping for a home (or perhaps, more accurately, shopping for a builder!) it's a good idea to get several bids. You don't need to solicit bids from 10 different builders, but getting pricing from two or three bids from reputable builders can help you see if a builder is in line or not. If one of the bids is dramatically different (either high or low) then something is off.
A builder that comes in dramatically lower is either saving money on labor or on materials. Either one of those can end up being a quality concern for you. It's not a bargain if you have to rebuild your home a few years down the road because of poor workmanship or inferior materials.
A fair price for a home gives you the home you want (and can afford) at a reasonable (competitive) price. But it also allows your builder to make a profit. And that's actually something you want, because a profitable builder will be there for you should you need him or her down the road. We've been building homes in the area since 1981, and we plan on being here for years to come. The Rochester Business Journal consistently ranks Gerber Homes as one of the "Top 5 Builders" in the region.
When it comes to getting a fair deal on your new custom home, make sure you look beyond the price tag and make sure you're getting true value for the money you spend.