When you (or your guests) step into your kitchen, the cabinets may be the most dominant feature in the room. Your cabinets set the tone for your whole kitchen and—with today's open-style architecture—your whole home. That's why you'll want to take your time when choosing the kitchen cabinets for your custom home. Your choice of cabinets is a major factor in designing the kitchen for your Rochester custom home.
What Would Be Your Kitchen's Style in Your Custom Home?
You'll want to choose a style that fits your personal taste—and creates the right atmosphere for how you entertain in your home. When it comes to kitchen style, there are two basic elements you'll want to consider: Cabinet style and color.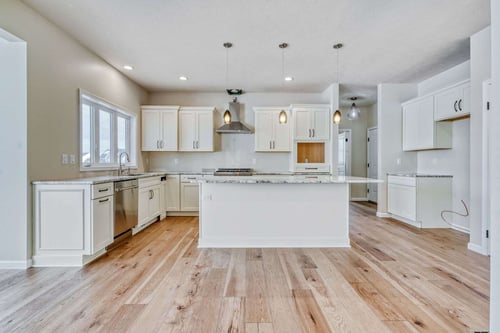 Cabinet Style is Essential
The current style trend in kitchen cabinets is leaning more toward Shaker cabinets—especially those that feature doors with recessed panels (although flat panel and raised panel doors are also quite popular in Shaker cabinets). These clean and simple cabinets are often found in the farmhouse-style kitchen—but that's not an exclusive trend. Here's a look at a farmhouse-style kitchen we recently built. And it's worth noting that a gourmet kitchen with an oversized island is considered a "must-have" for many people building a custom home.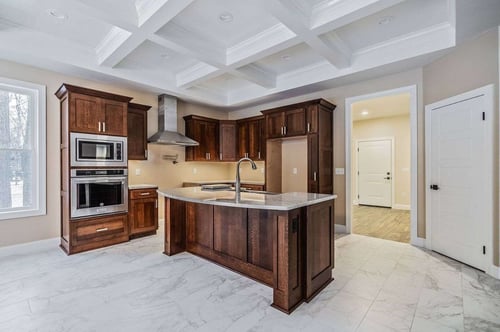 .
Cabinet Color is Key
You may see design posts proclaiming the death of white kitchen cabinets. And yet, according to RealSimple.com 43 percent of homeowners still prefer white cabinets. Let's face it, you can do a lot of accent colors with white cabinets. Natural wood cabinets (such as oak kitchen cabinets or maple kitchen cabinets) also remain popular. There is something warm and inviting about natural wood in the kitchen. Gray kitchen cabinets are also increasing in popularity. As a neutral color, they also lend themselves to a variety of complementary accent colors.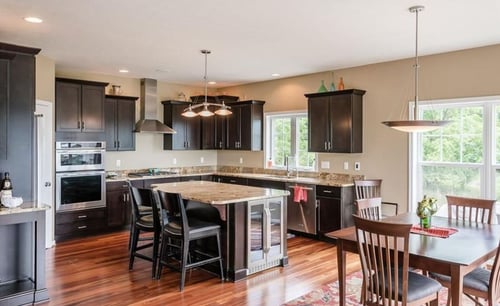 One trend that has changed over the last few years, however, is that designers and homeowners are embracing two-tone kitchen cabinets. They'll paint their upper cabinets one color and their lower cabinets another color. Often this combination will include one set (upper or lower) in white, with the other cabinets being blue or gray. It's a very stunning look.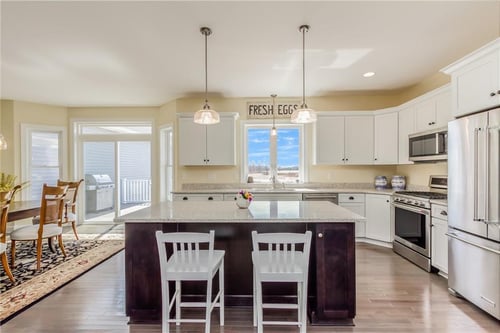 It's interesting to note that—according to the same RealSample post—approximately 40 percent of homeowners upgrading their kitchen are opting for custom cabinets, and 34 percent are choosing semi-custom cabinets. It's an area where homeowners weigh the cost versus the value of building/design decisions they make. Many homeowners are convinced that the quality and functionality that custom and semi-custom cabinets offer are worth the money they spend.
How Much Do Kitchen Cabinets Cost on Average in New York?
Before making your decision about what kind of cabinets to install, it's a good idea to have a basic grasp of the cost differences. Homeadvisor.com offers some helpful information about the relative cost of stock cabinets as compared to semi-custom or custom cabinets. You'll notice a range of prices for each kind. Your exact needs or desires will impact your final costs, but these figures can be a good starting point for comparison.
| | | |
| --- | --- | --- |
| Style of Kitchen Cabinet | Price per Linear Foot | Price Per Unit |
| Stock | $100 to $300 | $200-650+ |
| Semi-Custom | $150 to $650 | $250-800+ |
| Custom | $500 to $1,200 | $500+ |
Can You Have a Custom Kitchen in Your Custom Home?
When building your custom home, your kitchen is custom too. When it comes to the style, look, and feel, it's all part of your custom home journey. If you're looking for inspiration for your new kitchen, click here to discover our custom home gallery.
Or, if you just want to talk to us about what you have in mind, please contact us and let us know what kind of information you're interested in. We can help! We know you have lots of questions and our knowledgeable team is here to guide you through the whole process.