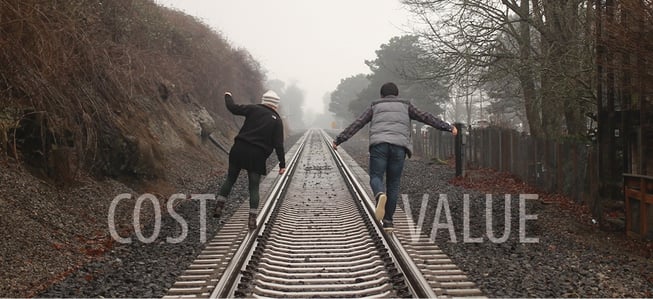 As builders and remodelers, one of the most frequent questions we're being asked is what a particular project is going to cost. It doesn't matter whether someone is planning to build a new house or remodeling their existing Rochester-area home—homeowners want to know what they're going to spend. It's important to have a realistic budget for either of those endeavors.
There's more to the equation, however than just calculating the price. As a homeowner, you also have to balance cost and value when building or remodeling. It's not just a matter of how much you pay for something that matters. What's truly important is how much value you get from the effort. What does that look like? Here are a few things that can add value to your home.
Comfort
You want your home to be as comfortable as possible. Sometimes that means having more space. It could be that you need an extra room because the kids are getting too big to share a room. Or it could be that your family room was designed for a time when televisions were a lot smaller than they are now. There are times when you want more visual space (even if you don't expand your home's footprint). That might mean installing larger windows or moving interior walls for a more open floor plan. And sometimes doing something as simple as adding more insulation can make your home more comfortable on those cold Rochester nights.
Convenience
You may also want a home that's more convenient. That's often what's behind many of the kitchen remodels we do in the area. Redesigning your kitchen so that it's easier to prepare meals and entertain can really make your home more enjoyable.
Lifestyle Enhancement
Perhaps your home doesn't really fit your lifestyle. If you enjoy entertaining, you may feel cramped because of small, chopped up rooms. Adapting your home to an open floor plan can allow guests to move freely from one room to another without feeling closed in. Or perhaps your family enjoys watching movies together or gaming. You might want to consider an entertainment room for your home where you can do both in comfort and style.
Future Savings
There are times when the money you spend now pays off in future savings. I've already mentioned the comfort aspect of things such as new windows and insulation. But those things (and installing new exterior doors as well) will not only help you feel better (warm in winter and cool in the summer), but they'll also save you money on your utility bill!
Resale
You may not be thinking about selling your home anytime soon, but there are a number of things you can do that will not only enable you to enjoy your home more now—but they'll also allow you to command a higher selling price if you ever do decide to move.
What you spend on building or remodeling your Rochester-area home does matter. But it's important to balance the cost with the value that you get out of anything you build or improve. And while specific costs will vary depending on your project, here is a look at the most recent figures that show the relationship between cost and value in the greater Rochester housing market