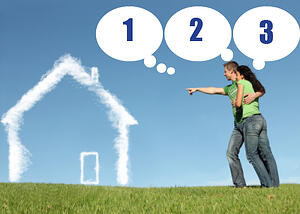 One of the main reasons people consider building a custom home instead of simply buying an existing home is that they want to make sure they get the home they really want. But there are three particularly important things to think about before beginning a building project in the Rochester area.
Property: Choosing the property on which your new home sits is a really significant decision. And there's a lot more to "location" than simply an address. Plus you can't always tell everything you need to know about a piece of property just by "eyeballing" it. In addition to locating the land, you'll need to do a site cost evaluation (is it suitable for building). You'll also need to make sure that the floor plan you have in mind works with the lot. And you'll need to ensure that you have access to septic, water, and other utilities.
Plans: We already alluded to the importance of the right floor plan. But you also want a plan that fits your personality and lifestyle. Many builders have just a few from which to choose. We think you ought to have dozens of floor plan choices. And if you don't like one of ours—bring yours in for review and we'll be happy to work with that.
Place: Choosing where you want to live is a bit more involved than just picking out the right parcel of land. It involves picking the right community and surroundings, whether that's in Webster, Canandaigua, Ontario, Perinton, or other communities in the Rochester area.
Building a custom home means building it your way: And that means choosing the property that's right for you, building according to the plan that fits your lifestyle, and living in the place where your family will feel most at home.