For decades, bathrooms and kitchens have been two of the most popular home remodeling projects. That's really not surprising since those two rooms are generally the most-used rooms in any home. No matter what room you're remodeling, you'll want to keep an eye on the costs. Here's a look at 2019 costs of bathroom remodeling in Rochester.
Bathrooms Are a Little Different
While your kitchen may be visited frequently by other family members and guests, your bathroom is a little different. It is your own private space. You want to make it as comfortable and convenient as possible. You may even want to pamper yourself a bit with a spa-like bathroom. How far you want to go with adding luxury, of course, will impact the cost. It's really up to you to decide what features are most important in your bathroom. To give you an idea of how the different levels of luxury, size, and features will affect your cost we'll look at several different levels of remodeling.
The figures we're using for this comparison come from the 2019 Cost vs. Value Report (© 2019 Hanley Wood Media Inc. Complete data from the Remodeling
2019 Cost vs. Value Report can be downloaded free at www.costvsvalue.com). We're going to look at typical costs for three different types of bathroom remodels: A Midrange remodel; an upscale remodel, and a universal design (aging-in-place) remodel. First, we'll define the basic project and then we'll show the costs (and the return on investment) for each project.
Midrange Bath Remodel
This type of project assumes the updating of an existing 5x7-foot bathroom. It entails replacing all fixtures to include 30x60-inch porcelain-on-steel tub with 4x4-inch ceramic tile surround. The tub will be equipped with a new single-lever temperature and pressure-balanced shower control. A standard white toilet will also be installed. The vanity will consist of a solid-surface counter with integral sink. A recessed medicine cabinet with light will be installed. The floor will be finished with ceramic tile floor. And the room will be finished with vinyl wallpaper.
COST: Typically, a project like the one described here will run about $20,239 in the Rochester area. If you sell your home in the future, you should recover approximately $10,526 of your investment.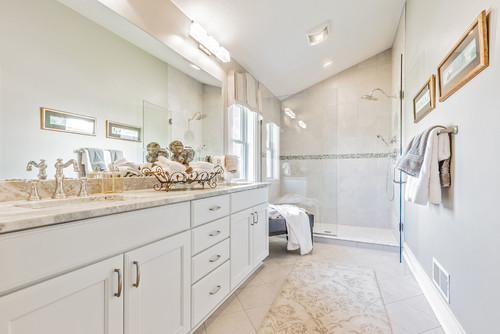 Upscale Bath Remodel
The upscale bath remodel calls for expanding an existing 35-square-foot bathroom to 100 square feet within the existing house footprint. The remodeler will relocate all fixtures. The remodeled bathroom will Include a 42x42-inch neo-angle shower with ceramic tile walls with accent strip. It will have a recessed shower caddy; body-spray fixtures; and a frameless glass enclosure. The plans also Include the installation of a freestanding soaker tub with high-end faucets. Countertops will be stone and will include two sinks. Two mirrored medicine cabinets with lighting will also be installed. The contractor will add a compartmentalized commode area with one-piece toilet and a humidistat-controlled exhaust fan. All fixtures will be colored. For flooring, the remodeler will use larger matching ceramic tiles on the floor, laid on diagonal with ceramic tile base molding. General and spot lighting will also be added (including waterproof shower fixture). The cabinetry in the bathroom will have a custom drawer base with wall cabinets. This project also calls for extending any required HVAC and also includes the installation of electric in-floor heating.
COST: An upscale bathroom remodeling project such as this one will run about $64,438 in the Rochester area. If you sell your home in the future, you should recover approximately $29,521 of your investment.
Universal Design Bath Remodel
If you're looking for a bathroom remodel that is based on Universal Design, this update assumes the remodeling of an existing 5x7-foot space. The remodeled bathroom will be wheelchair-accessible (zero- threshold, 36-inch-wide door). It also includes the installation of flat-panel electrical switches at sitting level (36 to 42 inches above the floor). The project also calls for replacing the existing toilet with a comfort height fixture featuring an elongated bowl and bidet-type seat. The existing bathtub will be removed and replaced with a curbless, tiled, walk-in shower that has an adjustable showerhead, fa old-out seat, a thermostatic mixing valve, and a bi-directional glass door. The Universal Design remodel also calls for replacing existing flooring with electric radiant heat beneath new luxury vinyl tile flooring. The remodeler will Install an adaptive living vanity with easy-grasp handles and an adjustable mirror. LED lights will be installed along with infrared ceiling light, a night light, and an ultra-quiet vent fan with humidity-sensing controls. The contractor will install ceramic tiles on the walls with two contrasting color stripes. Nine towel bars that can support 250 pounds will be installed. The storage area will be reconfigured to be accessible from a seated position.
COST: If you're looking at doing a universal design bathroom remodeling project like this one, you can expect to pay about $33,327 in the Rochester area. If you sell your home in the future, you should recover approximately $25,227 of your investment.
What Will YOUR Cost Be?
The figures you see posted here are "typical" costs for this kind of project in the Rochester area. Changes in the specific materials and in the exact scope of the project will affect the pricing. These figures do, however, provide a baseline or a framework so that you have a starting point for your particular plan. You'll want to meet with your remodeler to talk through exactly what you want in your bathroom to ensure that the results meet your requirements. That will also give your remodeler the information necessary to give you an accurate estimate.