Your master bathroom may well be the most personal room in your Rochester home. It's definitely a room that will get plenty of use—every single day. Here are 10 "must-have" bathroom features that will make your bathroom a relaxing, comfortable, and delightful place to begin—or end—your day.
How to Design a Bathroom
There is a lot more to creating a great master bathroom than just fine fixtures and cabinets. If you're building a new home, it's important to understand the custom home building process as you design your bathroom. The more time you spend thinking ahead about what you want, the better the results will be. Whether you're building a new home or remodeling the bathroom in your current home, it's important to begin with a good design. While the way your bathroom looks is important, your first consideration should be to design the room around what matters most to you. Here are 10 "must-have" features to keep in mind when you're considering how to design a bathroom.
An Updated Look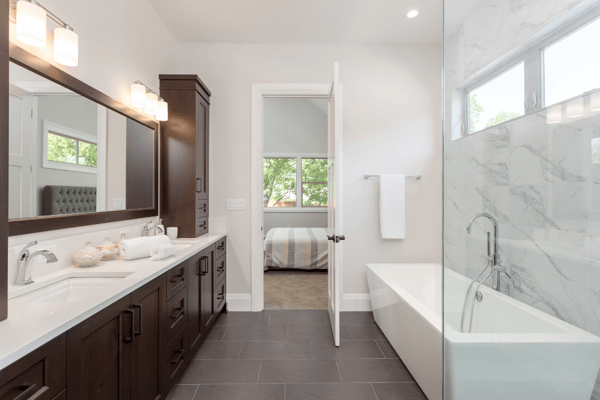 Nothing ages a house more than an outdated bathroom. That's why a modern bathroom is so important (we're using the term "modern" here in the sense of "updated"). You'll be much happier in a master bathroom that feels fresh and new. And should you decide to sell your home in the future, the bathroom is often one of the key rooms that buyers consider.
Double Vanities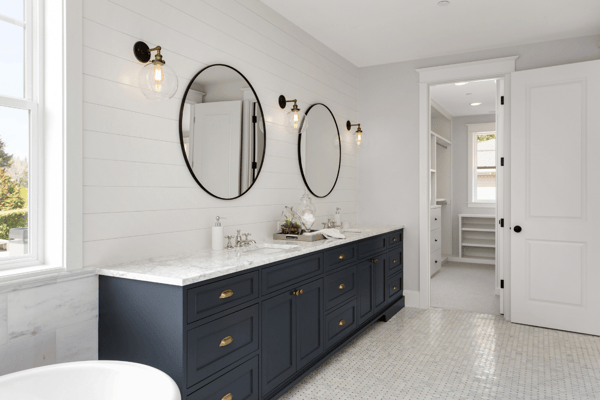 Be sure to include adequate space for getting ready for work or bed. It's not comfortable or relaxing if you have to jockey for sink space. That's a big reason that dual vanities are a significant trend these days. And while stand-alone pedestals may look elegant, they may not provide you with the counter space you want or need.
Adequate Storage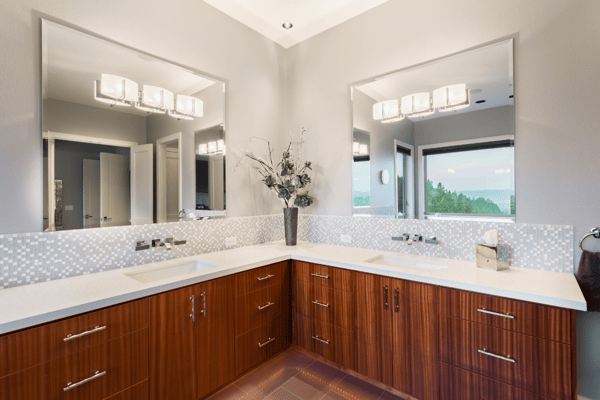 This is another consideration that doesn't seem particularly sexy on the surface. On the other hand, a crowded bathroom isn't all that attractive either. Work with your builder/designer to take advantage of unused space. Built-in storage that is recessed can provide additional storage space without sacrificing valuable floor space.
Great Cabinets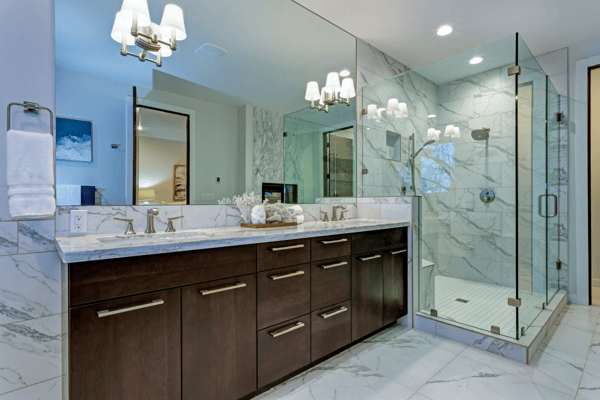 Your cabinets probably do more to influence the look and feel of your bathroom than any other feature. We've already mentioned the importance of storage above, but you'll want to keep that in mind for your cabinets as well. But functionality doesn't preclude style. Think through the kind of feel you want your bathroom to have. Do you lean toward modern or traditional? Will you be happy with standard cabinets, or do you want something that's customized to your taste—and needs?
Stunning Sinks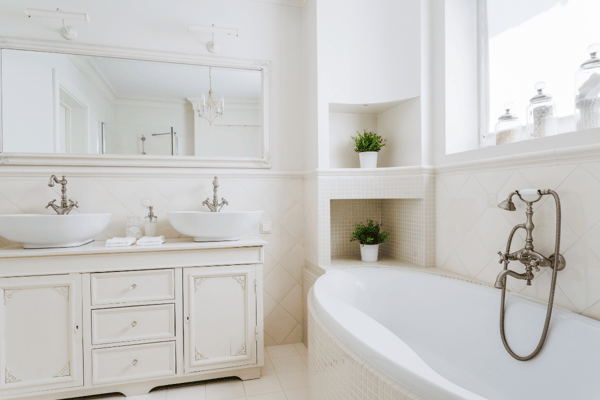 You have a lot of choices when it comes to the type of sink you can install. Some homeowners opt for under-the-counter sinks. Others prefer a sink that sits above the counter and has more visual impact.
Creative Countertops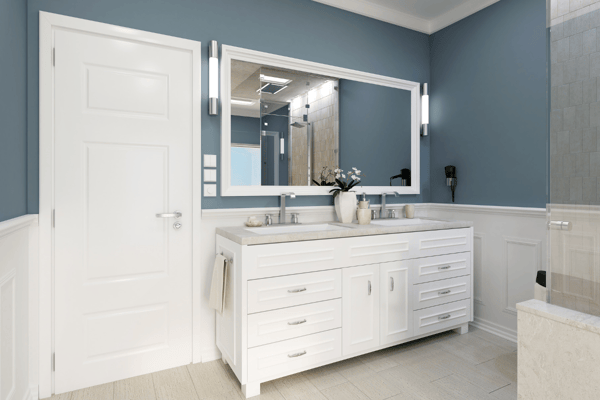 Stunning sinks, of course, deserve beautiful and creative countertops to complete the bathroom "ensemble." Marble and Quartz countertops are currently very popular because of their beautiful patterns and durability.
Fabulous Flooring
The flooring material you choose for your master bathroom also plays a huge role in both the comfort and visual appeal of the room. You'll have a multitude of stone and tile options in a range of colors and textures from which to choose. Your builder can help you select the right flooring and advise you about durability and safety (and here's an article that can help you get started). One thing many people in Rochester consider a "must-have" is heated flooring. And, while it is a bit more expensive than conventional flooring, if you've ever spent a winter in Rochester, you'll understand the appeal!
Lustrous Lighting
Having adequate lighting in your master bathroom is essential. You'll want ambient lighting that sets the overall mood in the room, but you'll also want task lighting for things such as makeup application, shaving, and other tasks.
Super Shower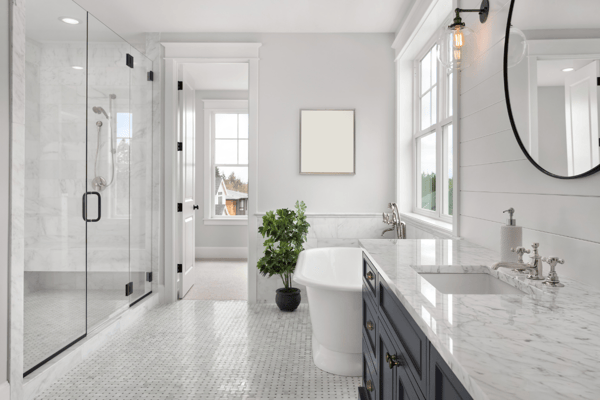 Today's showers are a far cry from the simple in-bathtub nozzles for rinsing off. Modern showers are spacious and elegant. A frameless glass shower enclosure looks elegant and takes up less visual space—making your bathroom look more spacious. Steam showers have grown dramatically in popularity. They are great in cold climates like ours because they allow you to warm up your shower before you get in—without using a lot of water. And they're great for relaxing tired or sore muscles.
Changing Personal Needs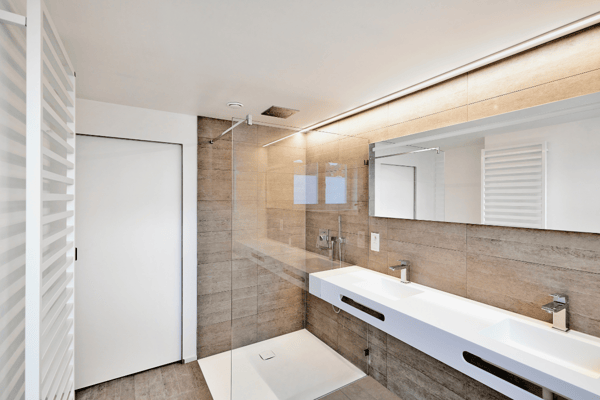 Another thing to think about is how your personal needs may change over time. As you mature, you'll want to keep safety in mind. That's why features such as "stepless" showers are so popular. Not only do they look elegant, but they reduce the risk of tripping. That's another benefit to the frameless glass showers—or even showers with no doors at all—mentioned above. Increasingly, homeowners are installing showers with built-in grab bars and seating to ensure safety. Many people also choose to have multiple showerheads (including a hand-held sprayer) that give them the option of showering while seated.
What About Costs?
If you're wondering how much it costs to remodel a bathroom in the Rochester area, here's a post that walks you through the typical costs for a variety of different bathroom remodeling projects (mid-range, upscale, or Universal Design) in and around Rochester.
How Can You Get Started?
Take a look at some of the bathrooms we've recently renovated. You just might find something that will inspire design ideas for your bathroom. If you have additional questions or want to know how you could adapt one of these bathroom remodeling ideas to better suit your needs, please contact us. We'd be delighted to help you think it through.