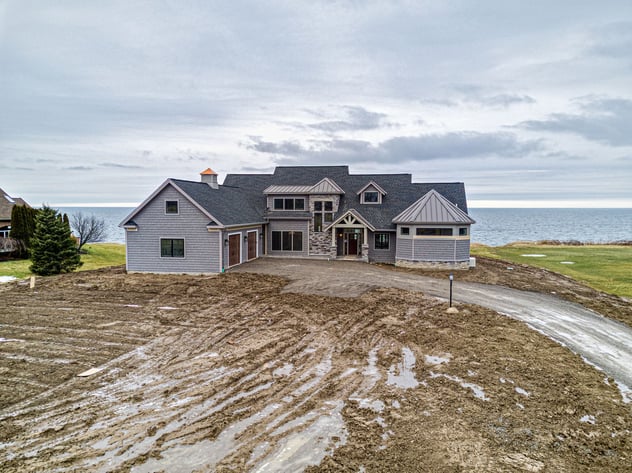 Building a new home in the Rochester area is a fun and exciting experience, but it also can be a little overwhelming at times. Decisions about lots and floor plans aren't so easy to make when you have so many options. Do you want a large lot in a secluded location or a slightly smaller lot within walking distance of town? What about bedrooms? The optimum floor plan will provide enough space for your entire family and include the features and amenities you want and need. (If you've been having trouble narrowing your choices, check out these tips for choosing a floor plan.)
In addition to selecting a floor plan and lot, you'll make decisions about building materials, finishes and appliances. You'll also need to think through your lighting and decorating options and consider your budget and finances.
There's one question that often sneaks up on homeowners during the planning process: "Where will I live while my custom home is being built?" It's not exactly a small detail. Unfortunately, life doesn't stop the minute you sign a contract to build a new custom home. You still have a life to live and responsibilities beyond your new home. And as rustic and romantic as it may sound, "camping out" really isn't a great option.
In a perfect world, you'd be able to sell your existing home and continue to live in it until your new home is ready to move in. Then you'd simply pack up your stuff and make your move. It sounds simple, right? Most of us, however, don't live in that perfect world. That means when you sell your existing home, you may have to move out before the new one is finished.
Concerns about where you'll live can cause a great deal of anxiety and stress. You'll need to find a rental home or apartment before the buyers are scheduled to move into your house, which can be a little challenging on short notice. When you don't have much time to look for a temporary new home, you may feel you have to settle for a rental that's far from work or stores, seems unsafe, or doesn't include the basic amenities you need.
Gerber Can Help You with Your Short-Term Housing and Storage Needs
If your home is expected to be completed in several months, it doesn't make sense to sign a lease for an entire year. Unfortunately, finding a short-term lease can really be a challenge—particularly if you want to move into a place where you'll be comfortable and feel secure. Too often, if you can find such a place, you'll have to be prepared to pay a premium.
At Gerber, we think there's a better way to solve that dilemma, one that doesn't involve putting an extra burden on families who want to build a new home. We offer short-term housing options that make life easier for the homeowners who build with us. Because we own a number of quality rental properties, we're able to offer month-to-month living opportunities to our clients. As a matter of fact, while your new Gerber custom home is being built, you can live in one of these comfortable units RENT FREE:
Patriot Corner Apartments:

These spacious two-bedroom apartments in Ontario offer wall-to-wall carpeting, central gas heat, air-conditioning, large kitchens, on-site laundry facilities and ample parking. Do you enjoy long walks through your current neighborhood?

Patriot Corner Apartments

offer a fitness trail that passes by two ponds in a nature preserve area. The apartments are located close to Route 104 and only a five-minute drive from Webster stores.

Swiss Chalet Apartments:

Swiss Chalet Apartments

, located in Palmyra, offer a quiet, wooded setting, yet the apartments are just a few minutes' walk from stores and churches. Staying cool during the summer won't be a problem, thanks to the central air-conditioning installed in every apartment. The two-bedroom apartments offer gas heat, wall-to-wall carpeting, large rooms, on-site laundry facilities and plenty of parking. Garages and storage units are available at Swiss Chalet for an additional fee.

Seven Hearths Homestead:

Located just off Route 21 in Marion,

Seven Hearths Homestead

is within easy walking distance of downtown Marion. Once fertile farmland, the property is now home to the four apartment buildings that make up Seven Hearths Homestead. In fact, one building is a barn conversion that contains 10 apartments. Apartments are fully carpeted and feature electric baseboard heat, wall unit air-conditioners and on-site laundry facilities.
Once you receive an offer on your house, get in touch with Gerber to begin your free stay at one of these beautiful apartment communities. (The maximum length of stay with no fees is three months.)
Finding a place to store your belongings when you're temporarily downsizing or staging your current home for sale can be a problem. Our storage facility, Ontario Self Storage in Ontario, is the perfect spot to safely store furniture, clothing, sports equipment, holiday decorations and other items until your new home is ready.
Storage units are available in a variety of sizes and price ranges. The facility offers 24-hour access, digital video surveillance and an online bill pay option.
Gerber Offers Great Community Choices for Buying and Renting
All of our rental apartments are close to the communities (and individual home sites) in the Rochester area where Gerber builds homes, including Canandaigua, Marion, Huron, Macedon, Webster, Ontario, and others. Knowing you'll end up in a community you love is certainly a positive, but it doesn't take care of your housing needs before your move-in date.
Fortunately, our storage options and FREE apartments can eliminate the stress of worrying where you'll live and store your belongings while your house is being built. That should make you a happy camper—without having to actually camp out!