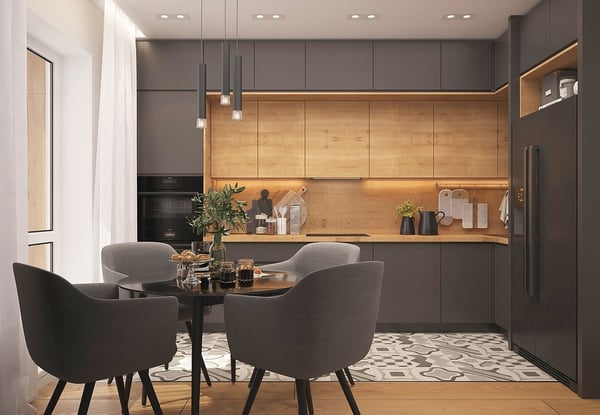 There's little doubt that the kitchen in your Rochester home has a huge impact on the look and feel of your entire home. It's why homeowners pay so much attention to the details that go into creating their dream kitchen. That's true whether you're building a new home or remodeling your existing Rochester kitchen. Your kitchen, however, should be a reflection of what's important to you. It should reflect your personality. What's your kitchen personality? How can you match your Rochester kitchen to your persona?

What's a Persona?
When I say your kitchen should match your persona, I'm not talking about whether you're an introvert or an extrovert. I'm talking about having a kitchen that matches the way you live and how you like to use that space. Here are some examples of different kitchen personas. You may not find one that matches you exactly, but the idea is that the kitchen should be designed to suit your specific lifestyle.
Cindy the Casual Hostess is all about convenience and making guests feel welcome in her kitchen. She'd rather spend time with her guests than spend time preparing meals and trying out exotic recipes. That's why her kitchen appliances and design focus on ease of access and ease of use. Her kitchen has lots of space for family and guests to linger while food is being prepared. It's open to the Family Room so that everybody feels connected. Cindy's family also eats breakfast in the kitchen area so she might opt for a built-in breakfast bar at the center island or even a breakfast booth right off the kitchen.
Gourmet Gina is really into gourmet cooking. It's not just something she tries occasionally—she's passionate about it. She reads up on the latest cooking trends and even watches gourmet-cooking shows. She can't wait to try out the newest recipes. The layout of her kitchen reflects that passion. She designs her kitchen space to enable her to do the kind of intensive cooking she and her family enjoy. It's all about efficiency and preparation in Gina's kitchen. For her, the "Kitchen Work Triangle" is extremely important. She still likes to host meals and have friends over, but her guests enjoy their special meals in a space adjoining the kitchen—not in the kitchen itself.
Emily the Entertainer is a true social character. Her kitchen is the place where she hosts friends and guest—for a glass of wine or for conversation while she prepares a meal or a snack. That's why she wants a kitchen that's spacious and gives guests room to mingle without worrying that they'll get in the way of the preparation. Entertaining and doing food preparation in the same space means that Emily needs lighting that will enable her to easily complete tasks such as chopping, cutting, washing, and stirring. But then, when the prep work is done, she can switch over to ambient lighting that makes guests feel comfortable.
Thoroughly Modern Melissa is a big fan of modern design using clean, sleek lines. Countertop clutter is one of her pet peeves. That means she has a kitchen that allows plenty of storage space to keep things off the counter. If possible, she may even include a separate pantry for food items and seldom-used appliances. Her penchant for modern style also shapes her selection of cabinets, countertops, backsplash, and flooring—and she gravitates toward simple colors with bold accents.
Carol the Country Girl is a fan of warm, inviting, country-style décor. She wants her kitchen to be a place where friends enjoy a relaxing a cup of coffee or tea while talking about anything (or nothing). Her kitchen is a relaxing place so she chooses cabinets, counters, sink, furniture, and colors that are warm and comfortable. She does have a preference for natural materials such as reclaimed wood and metals that give her kitchen a comfortable "lived-in" feel.
You can see that some personas tend to be more driven by function (cooking or entertaining style), while others focus a bit more on aesthetics. Knowing what's most important to you helps you work with your builder or remodeler to help create a kitchen that makes you feel comfortable and at home. If you're looking for additional help to match your kitchen design to your personality, download our free Creating the Ideal Kitchen eBook. This helpful guide will help you identify the features you'll want to build into your ideal kitchen.
Photo by Viscious-Speed
Adapted from the original September 2016 post