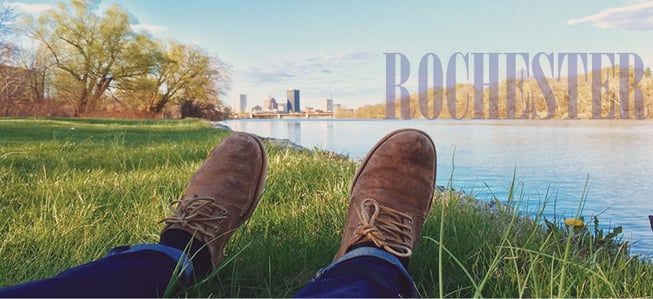 Why is this a great place? This may not be a typical scene for the Rochester area in January, but it's a good reminder of one of the reasons people love this region. Spring and summer can be absolutely delightful. Whether you're enjoying relaxing by a riverbank, or enjoying the breeze coming off Lake Ontario (or off the water in the Finger Lakes region), it's awfully nice. Of course, there's more to the area than nice places to relax. What makes the Rochester area a great place to live? Let's take a quick look.
It Offers a Great Balance of Big and Small: Built on the banks of Lake Ontario, Rochester is the third largest city in New York which means you'll have access to all the amenities of a larger population center. It's a large city with a small town feel. And the areas around Rochester are full of small-town charm and character. Communities such as Canandaigua, Webster, Ontario, and Mendon provide quiet and relaxed places to raise a family.
An Abundance of Affordable Housing Choices: Housing in the area is very affordable and there is no shortage of choices when it comes to finding a home design that fits your specific lifestyle. You can take your pick from many floor plans that include Colonial homes, 1st Floor Master plans, Patio homes, Ranch homes, Cape homes, and even homes that are designed with In-Law layouts.
Area Attractions: If you want to get away for a weekend or even a day trip, the Rochester area has lots to keep you entertained. You can catch a concert in Syracuse (known for its jazz festivals). Or you could take a quick trip over to catch some of the most incredible water scenery at famous Niagara Falls. And while those falls are world-renowned, there are plenty of other things to do in the area. Here's a post that highlights some of the other great activities you'll find in the Finger Lakes region.
Great Dining: Rochester resident love their food—and you'll find a wide variety of great dining opportunities in Rochester and the surrounding area, including American, Italian, Middle Eastern, Mexican, and more.
There are plenty of reasons to live in the greater Rochester area, but what if your home no longer meets your needs? What if your family has grown and you need more space? Or what if you happen to be a mature couple and want a home that will allow you to stay where you are without moving?
We specialize in home remodeling and additions. Whether you need a kitchen remodel, a bathroom remodel, a home addition for more space, or even an In-law addition to accommodate aging parents—we can help!
And if you are looking for a new home, we build a wide range of home styles (click here for a look at the various plans) in a number of communities throughout the East Rochester area. You can find the home you want in the community you want virtually anywhere around Rochester.
This may not be the best time of year for stretching out along the riverbank, but there are plenty of reasons to enjoy Rochester all-year long. And now is a great time to think ahead about remodeling or building so that you can enjoy the great spring and summer weather!