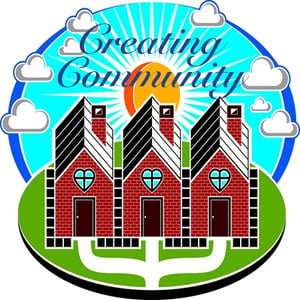 There are a lot of benefits to buying a brand new home. You get to pick the floor plan you want. You select the finishes that fit your sense of style. Everything in your new home is new. That means it should function flawlessly—and if there happens to be an issue it's going to be under warranty. There is, however, a challenge when you move into a new construction community: how to foster community.
Developing a sense of belonging is crucial if you want your new house to truly feel like home. That's one reason why choosing your community is important when choosing a home. What can you do to build relationships and a sense of community when your new home is being built in a new construction community—where everybody is kind of starting from scratch?
Here are a few things to think about before you move in. Some may appeal to you and some may not be your style, but these are things that can help you get to know your neighbors and build the kind of relationships that make your neighborhood where you and your family will feel at home.
Organize Community Events: Sure, people are different, but a lot of us have some common interests. A great way to get together will neighbors (and get to know them) is at community events that appeal to a broad range of interests. Many neighborhoods organize outdoor concerts in warmer weather. You could have a "Jazz in the Park" series and invite talent from around the area. It doesn't have to be 4-star quality. It's more about getting people together with the music as a backdrop.
Small Group Events: Chances are good that there are people within your community who like to play bridge, or would love to be in a book club. You don't need a lot of resources—other than your home and a willingness to have people over. And if you rotate where the groups meet, everyone gets the opportunity to show off their new home!
Community Improvement: It could be that you notice areas that need some improvement. It could be planting a community garden or improving access to a local hiking trail. A lot of neighborhoods will organize community clean-up projects in the spring. It gets everybody outside and interacting with one another.
Volunteer as a Leader: While not everyone is comfortable taking on responsibility for a community, it's a great way to find out about the issues your neighbors really care about. Whether you have a formal HOA or a more informal group, you can get to know people and have a positive impact on their lives—and your own living situation.
Those are just a few simple ways you can get to know the other members of your community and begin to build an environment where you—and those around you—feel more at home.