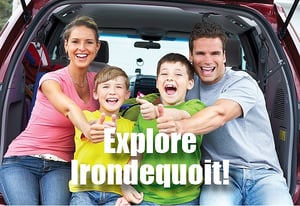 If you're like a lot of people in the Rochester area, you've had enough cabin fever to last you for a few months! It's time to get out and enjoy the area. But what's there to do around the Irondequoit area? We're glad you asked! Here are a few things you and your family can enjoy without having to go too far.
Visit the Zoo: Explore the world of animals at Seneca Park Zoo. Click here for more information and online ticketing.
Amuse Yourself at Seabreeze: With more than 70 great attractions, Seabreeze Amusement Park offers fun for the whole family. Check out thrill rides such as the Time Machine, the Jack Rabbit Rollercoaster (the oldest continuously operating roller coaster in America!), the Whirlwind, and more. There are rides for the whole family, such as the Great Balloon Race, an old-fashioned carousel, and Twirlin' Tea Cups. There are also rides that little ones can enjoy on their own that include the Bear Trax roller coaster, Barnstormers bi-planes, and T-Birds car rides. And the whole family can enjoy a world of water with the six adventures in the Seabreeze Water Park. Click here for more information!
Make Learning Fun: Just a short drive south will take you to the Rochester Museum & Science Center where you can immerse yourself in the incredible world of science. Follow your curiosity from the depths of the oceans to the edge of the universe. Push the limits of your imagination to create never-before-seen inventions. All at the Science Museum, Strasenburgh Planetarium and Cumming Nature Center. During the summer months, there are even "Curiosity Camps" that offer hands-on fun for children aged 2-15. Click here for additional information.
Hike, Bike, and More: If you really want to enjoy nature that hasn't been overdeveloped, you'll enjoy hiking and biking at Tyron Park. The park's 82 acres are largely undeveloped and afford great opportunities to take in some spectacular natural scenic areas. Located off Tryon Road off of North Winton Road between Browncroft and Empire Boulevards, Tyron Park is great for Birdwatching; Fishing; Geo-caching; Hiking/Running; Off-road Cycling; and
Cross-Country Skiing (on ungroomed trails), and Snowshoeing (although we recommend you wait for the winter months for the last two activities!) Click here for a view of the trail map and other information.
If you're wondering what there is to do in and around Irondequoit, this is just a sample of what's in your backyard!