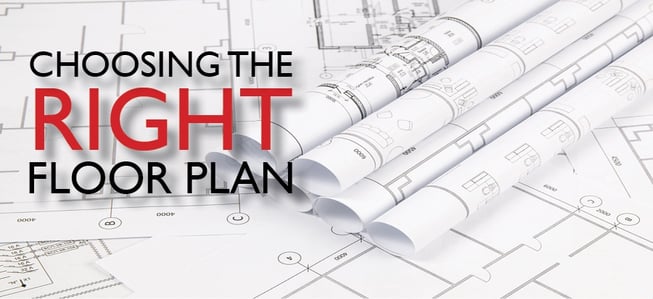 We Americans love to have our choices. If you don't believe me, just take a look at the cereal aisle in the grocery store! That same affinity for options holds true when it's time to build a home in the greater Rochester area. That's one reason we offer so many different choices of floor plans. If you glance through our plans you find Colonial homes, first-floor master homes, patio homes, ranch style home, Cape homes, and even homes that offer in-law layouts.
The only problem with having so many choices is that at some point you actually have to make a choice. But how do you pick the right floor plan for your family's specific needs? Here are a few things to keep in mind as you select the plan for your new Rochester home.
What Makes a Good Fit?
When it comes to plans for your home, one size (or style) doesn't fit all. Before you fall in love with a floor plan because it looks nice, you'll want to consider your lifestyle. Do you like to entertain? What kinds of activities does your family enjoy? What about your kitchen? Will the kitchen in the house you build match your personality?
How Flexible Are Your Plans?
What do you do when you find a floor plan that's almost right? Are you locked into it, or can you change it? Some builders simply don't allow for changes. What you see in the plan is what you're going to get. That's not a criticism. It's just the way their business model works. At Gerber, we take a slightly different approach. We'll work with you to make modifications and adjustments. In fact, even though we offer dozens of great plans, we'll will also work with a plan you bring us to make sure you get what you want and need.
Planning for the Future
Your home is a long-term investment. Chances are you're going to be in your home for a while. That means your needs (and even your tastes) will change. It's easy to overlook the fact that small children, who can easily share a bedroom when they're little, will grow into teens and adolescents who will want their own space. Then there are your own needs to consider. Stairs may not be a concern to you at all right now—but what about five or 10 years from now? You may want to consider a single-level home or a home with the Master Suite on the first floor.
I like to tell prospective homeowners that the floor plans are really a starting point. The important thing is to create a home that meets your needs, satisfies your sense of style, and fits your budget. That may take a bit of work and time—but we think it's the best way to get a great home that you'll love for years to come.
I invite you to check out this short and informative video in which I explain a bit about how our process for choosing the right floor plan works. Instead of having to adapt your lifestyle to the floor plan you chose, we think your floor plan should adapt to your desires and lifestyle!