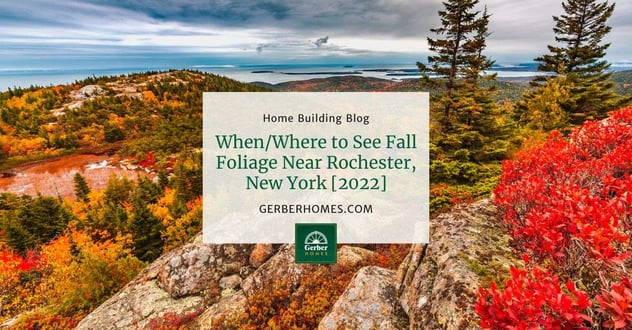 The most beautiful season is fast approaching, and in Rochester, New York, there are lots of beautiful fall foliage to be seen! Finding the best places and times can be tough, though, and we are here to help you get to the right spots at the right times.
Best Time to See Peak Fall Foliage in Upstate NY
In the Rochester, New York area, peak leaf changing should be starting in the last week of September, with the peak approaching into the second and third week of October, roughly from October 4th to October 18th, 2022.
Here's one reference to some of the best times to see fall foliage in Rochester. We'd also recommend looking at this official fall foliage predictor by smokymountains.com, which puts the peak fall foliage in Rochester mid-way through October, so be sure to mark the calendar and not miss it!
2022 Peak Fall Foliage in Rochester, New York - October 4th - October 18th
*Data Gathered from Fall Foliage Prediction Map - Smokymountains.com
Where to See Fall Foliage near Rochester
If you're ready to see the beautiful fall colors this year, here are some of the best places to experience them! While you are out leaf peeping, take along our printable foliage scavenger hunt!
Letchworth State Park
Letchworth State Park is one of the most beautiful areas in the eastern U.S. Not only does it have lots of outdoor activities to keep you going, it has beautiful sights! From waterfalls to hiking trails and overlooking an abundant number of trees, this is a great spot for fall foliage. Enjoying the waterfalls, scenery, and the foliage here is a must and you are interested in learning more about Letchworth State Park, click here!
Jump Off Trail
The Jump Off Trail is just under an hour outside of Rochester, New York, and offers some amazing overlooking scenery. This is a top spot, especially during the peak leaf changing season. With all the different colors from orange, red, and yellow, this ADA-accessible location is a great place to look at the changing seasons.
Durand Eastman Park
You can enjoy what this beautiful park has to offer either by driving through, walking on the paths, or biking through. With lots of surrounding trees and beautiful trails, this is another favorite to go and enjoy the changing of the leaves.
Rochester Fall Getaways and Activities
If you're planning a trip this autumn, we can help! Here are some of the best fall getaways near Rochester, New York. Each of these locations will also give you access to some of the best fall foliage vantage points in the area. Plus, you'll be able to visit them on a day trip or multiple days depending on how long you want to go!
We hope you enjoyed this article on when and where to see the Fall foliage in the Rochester area. If you love the season here, why not stay awhile? Whether you live here now or want to move to the area, we're here to help make your dream home a reality! If you're thinking about buying a home, we invite you to download our Home Buyer's Guide below and take the first step towards living in a beautiful area you love.