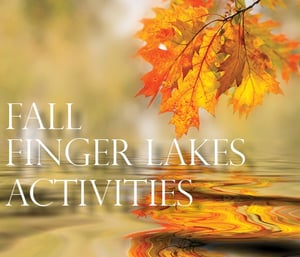 Maybe your summer swimming days are but a faint memory now, but there's no fall-off of activities in the Finger Lakes Region when fall rolls around. Here's a look as some of the fun fall activities you can enjoy in the area's communities.
Oktoberfest may be over, but if those festivities stirred up your yearning for German food and celebration, you may want to check out one of the most popular restaurants in Canandaigua: Rheinblick German Restaurant. The restaurant was founded by a German family, and serves authentic German cuisine accompanied by a large selection of beer. Locals and food critics alike rave over the traditional dishes such as Sauerbraten, Schnitzels, Bratwurst, Bauernwurst, and many other popular German dishes. The female servers are dressed in dirndls (traditional Bavarian dresses), and the restaurant décor emulates the feel of an authentic Germany Gasthaus.
It may be a bit early to strap on the snow skis, but if you're looking forward to hitting the hills this winter, fall is a great time to check out the local ski areas. Bristol Mountain Ski Resort is only a 20 minute drive from the heart of Canandaigua. The resort offers 35 slopes across 138 acres and is considered one of the premier ski resorts in the region and boasts a 1200' vertical drop giving visitors great skiing and amazing views. If you are looking for a great way to spend the day with the family, nothing beats driving out to Bristol Mountain, strapping on some skis, and then pointing them downhill. And you can enjoy those view with Fall Sky Rides on the lifts through October 30th!
Don't mourn the passing of summer, laugh it off at The Webster Comedy Club—one of the top entertainment venues in the area. It has a great atmosphere, good food, and is often considered an "A list" comedy room when it comes to attracting talent. Some of those top talent names include Drew Carey, Jim Norton, and Andrew "Dice" Clay, just to name a few. Whether we're having a great Indian Summer or an early taste of winter, it's always warm and inviting inside the Webster Comedy Club.
Enjoy a Walk in the Park (Ontario area)
Sometimes the simplest activities are the best—such as enjoying a walk in the park. While B. Forman County Park isn't officially inside the city of Ontario, it is undoubtedly one of the most popular parks for anyone who wants to enjoy beautiful Lake Ontario. The park features a massive 80-person indoor pavilion, as well as many grills and benches for picnicking. While there are no trails at this park, the main attraction are the wide open beaches along Lake Ontario. This location is popular among fishermen and photographers because of beautiful scenery and location.
Visit the Past (Ontario)
Not every museum is comprised of glass exhibits in an imposing building. The Heritage Square Museum is a small and unique museum in Ontario comprised of a collection of small historical buildings and landmarks showcasing what life was like in the 1800s. You can take a look at an 1800s train station, an apple dry house, the old Ontario Jail, a schoolhouse, and the Baptist meeting house among other things. The museum is a popular visit for local schools, and often features activities and events for the whole family.