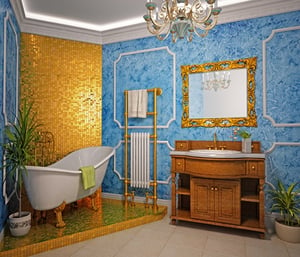 Research shows that in American homes the bathroom ranks right up there with the kitchen as the most remodeled room in the home. So whether you're building a new home or remodeling your existing home in the Rochester area, that gives you a bit of an idea of how important it is to get this room right.
If you spend much time looking at home design online, however, you might get the impression that the bathroom (whether it's your master bath or your powder room) is all about opulence and making a grand statement. But are chandeliers, gold fixtures, and gold-leafed stand-alone tubs right for the bath in your home? What really matters most when it comes to your Rochester bathroom?
First and foremost, how you design this very private room (especially your master bath) should focus on comfort. Some time ago, Professional Builder Magazine surveyed a number of homeowners and asked them to list their main priorities for improving their home. What homeowners said was their main priority might surprise you. They listed having a double sink vanity in the master bath as their top choice! The third highest priority on their list was to install a walk-in shower with no door.
That's a far cry from gold fixtures, soaking tubs, and heated towel racks! But it does help to illustrate what's really important. Luxury is great if you really want it and if it fits your budget. What most of us are really after is comfort and convenience.
Having enough space so that you can get ready for your workday in comfort, or prepare for a night out is something that almost everyone appreciates. And having the bathroom conveniently located (particularly for the Master Bedroom) is probably more important to most of us than having 16 jets spraying in the bathtub (although having a whirlpool tub like the one featured in our Walton model or our Danbury floor plan can really be a nice addition!).
If a soaking tub is what you really want (and will use) then you should make it a priority. The point is that what matters most in your Rochester Bathroom is what matters to you. So as you consider floor plans for your new home, make a list of "must-have" items, and "Nice-to-have" items. Then make your choice of plans based on your wants, desires, needs, and budget—not on what someone else posts online.