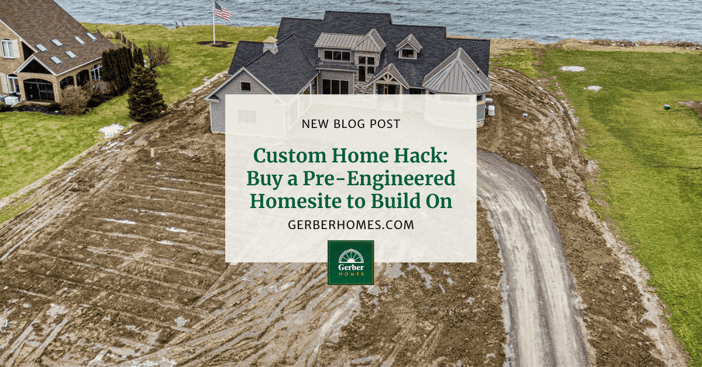 Land development, one of the most important steps when you're building a NY custom home, adds weeks or months to your construction timeline. If you're eager to start the home building process as soon as possible, you may want to consider buying one of the pre-engineered sites currently offered by Gerber Homes.
The Advantages of Buying a Pre-Engineered Site
Pre-engineered sites are ready for building. Your builder has already taken care:
Perc Tests:

These tests are essential for determining if the land can accommodate a septic system if municipal sewer service isn't available.

Site Preparation:

Few home sites are perfect. Most

need a little work

before they're suitable for building. When you buy a ready-to-build site, we've already removed boulders and trees, leveled the site, and built a driveway for easy access. Electrical and municipal water service lines (if available) may also have been run to the site.

Engineering:

A site engineer will already have determined the ideal location for your home, prepared grading and stormwater management plans, selected utility access sites, and performed other essential tasks needed before construction can begin.

Surveys, Zoning, and Permits:

Surveyors map out your property's boundaries and note easements and other issues that could affect your ability to build on the land. Without proper zoning, it may be impossible to build on a site. Your home builder has already made sure that the property is zoned for home building and checked that the property's title is free and clear. Some of the permits needed for construction will also be obtained before the lot is offered for sale.

Realistic Pricing:

You never know what you'll find when you begin site preparation for a new home. The soil be covering a thick layer of rock that requires blasting before a home can be built, or it may be more expensive than anticipated to run electricity to the site. When you buy a ready-to-build site, there are no surprises. The price you're quoted for the land is accurate and unlikely to change.

Quicker Build:

New home completion times vary depending on the size and complexity of the house but generally take six to 12 months or longer. Site preparation can add considerable time to the construction timeline for your new home. When you buy a pre-engineered lot, the building process can begin as soon as the plans for your new home are finalized.



Our Ready-to-Build Sites
One of these sites may be the ideal location for your new home:
Lot 5 Aldridge, Victor, NY:

The sewer is already connected and public water, electricity, and water are available for this 3.7-acre site.

Lot 2.3 Aldridge, Victor, NY:

This scenic 1.9-acre property also has a connected sewer. Electricity and natural gas are available.

1093 Bear Creek Circle, Webster, NY:

All utilities are available for this .41-acre site located on a cul-de-sac.
In addition to offering approved land for sale, the Gerber Homes team can help you determine if the land you're considering buying or have already bought is suitable for building. Free land development consultations help you avoid wasting thousands of dollars on sites that won't meet your needs. During your consultation, we'll evaluate the site, identify areas of concern, and offer suggestions and recommendations.
Would you like to buy land for a custom home? Take a look at the home sites on our website and give us a call when you see something you like.