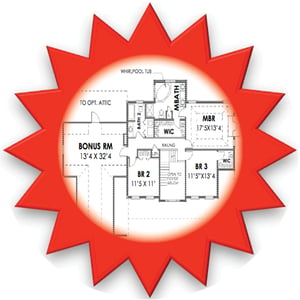 If you're thinking about building a custom home in the Rochester area, you know how important having the right floor plan is. Without a floor plan it's impossible to turn your dreams of a new home into reality. But you've probably seen that there are a whole lot of floor plans out there. We have dozens of great plans on our website alone! So how do your choose the plan that's right for you? What makes a floor plan a great floor plan?
Here are a few things to keep in mind that will help you select a floor plan that's great for your family.
All The Right Rooms

: Make sure the plan includes the rooms that are really important to you. Just because something is trendy doesn't make it right for you. For instance, media rooms are really popular, but if your family isn't big on watching TV or movies, you may not want a plan that devotes a whole room to that activity. If you enjoy large family dinners on a regular basis, you may want a plan that features a large dining area—or even a separate dining room. It's important to think about where important rooms are located as well. Does the location of the kitchen work well with your family routine? Will the laundry room be located where you like to have it?
Function and Form

: It's easy to get excited about the latest design trends, but you'll want to make sure the space is really useable. As an example, having lots of large windows can make a room beautifully bright and provide great views. And a big fireplace is also a nice focal point for a room. But if two walls of your room are taken up with windows and a fireplace, will you have room for all of your furniture?
Fitting Your Personal Style

: Open design floor plans are very popular—and attractive. But does that fit the way you live? If you prefer a more formal dining area or a place where you can entertain guests that's away from the kitchen, you may want to choose a plan that has a formal dining room and/or living room. If you have smaller children, you may prefer a plan that puts bedrooms upstairs—away from noise and commotion—rather than a plan that has bedrooms on the same level as common areas such as the kitchen and family room.
Know Your Boundaries

: One thing to look at when reviewing floor plans is the flow from one room to another. Some people have a tough time deciding how to transition from one room to the next. This can affect the kind of flooring you install. Will you have the same flooring throughout one level of the house, of will there be natural breaks? This is also a consideration when it comes time to paint. If you have an open plan, how will you handle the color transition from one room to another if there are no walls or doors separating the rooms?
A great floor plan isn't necessarily one that's splashy or trendy. What makes a plan great is when it fits your family's lifestyle and makes you comfortable. So as you look at floor plans take a "virtual walk" through the rooms and try to imagine your family living in this home.