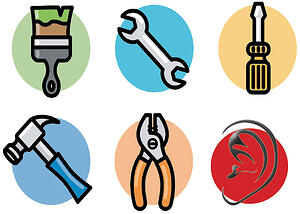 When you finally start building the house of your dreams, your builder will use a lot of tools. He'll use hammers and saws. He'll use a wide variety of screwdrivers and wrenches. There will be tape measures and levels. You'll hear sanders grinding and circular saws cutting. Of course, before any of those tools see the inside of your home-to-be, he'll have already brought in the heavy equipment to dig and pour your foundation.
Each tool has its place in the homebuilding process. And that's a key thing to remember: Building a home is a process. Not everything happens at once (even though at times it will seem as if everything is happening at the same time!).
There is one tool, however, that needs to be used constantly—and in every aspect of the homebuilding process. And it's without question the most important tool in the whole homebuilding process. And what's more, it's a tool that both you and your builder need to wield well. We're talking about your ears.
A big part of building a custom home is that you get to decide what features you want to build into your house. But that also means that you have a lot of decisions to make—and those decisions can come up at any stage of the homebuilding process: design, foundation, framing, or finishing.
That's why it's so important to listen carefully to what your builder says to you. It also means feeling the freedom to ask clarifying questions of your builder until you're sure that you understand your options. It's your house. You get to decide. But you need to make sure you understand your options.
Of course it's equally important that your builder listens to you. You need to feel confident that your builder understands exactly what you want. It's his job to make it happen (not yours), but it's also his job to make sure he understands what you want before he figures out how to make it happen.
That's why choosing the right builder is so critical to the homebuilding process. You're really entering into a partnership with your builder. You need to be able to communicate clearly with one another—and understand one another. That's one reason it's so important to spend some time with your prospective builder before you sign a contract. If you feel like you're on the same wavelength—that you can accurately communicate with one another—that's a good sign.
For more help in selecting the right builder, check out: Choosing a Rochester Area Homebuilder for some great tips.
You may never pick up a hammer or saw during the building of your custom home, but you—and your builder—need to master the most important tool of all!