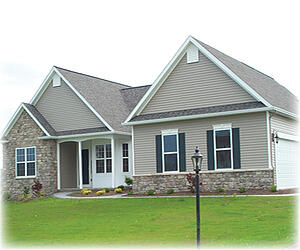 One of the things that draws people to the greater Rochester area is the proximity to Lake Ontario. There's just something about living near a big body of water that you just can't find anywhere else. There's something soothing about looking out at the lake and feeling the lake breezes on your skin.
Now there are new opportunities to experience the tranquility of lakeside living in the comfort and quiet of the Summer Lake Community in Ontario. If you're looking for just the right home, you can take your choice from a number of great options.
The Roosevelt offers you a 2269 square foot, 3-bedroom, 2.5-bathroom home with gorgeous neighborhood lake views, central air conditioning, gas fireplace, hardwood floors, and a host of other amenities. You can check out an overview of the floor plan here.
If you're looking for something a little smaller, on a single level, you'll want to check out the BainBridge II (shown in the picture above). Its 1673 square feet still gives you plenty of living space with 3 bedrooms and two bathrooms. Click here for a look inside and to request a floor plan.
Or check out the Saratoga II—a gorgeous 3-bedroom, 2.5-bathroom, 2-story home with a finished bonus room. You can take a look at the floor plan, or come by to see the home in person.
Just because you want to enjoy the tranquility of lakeside living doesn't mean you have to sacrifice convenience. Ontario is only 1.5 miles from Webster, and within an easy 10-minute drive of great shopping.
There's a good reason you love this area. Now you have even more options for building your dream home in a place you'd love to live. If you'd like more information about this comfortable, cozy community, shoot Leanne Boyatzies a note at leanne@gerberhomes.com and she'll be happy to help you find the place that's perfect for you.