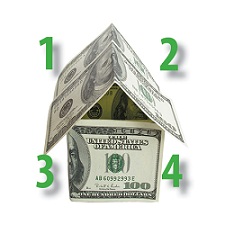 It's not unusual for someone to ask us what a new custom home in Rochester or the surrounding area will cost. Some people even ask us what the cost per square foot will be. And while knowing what your house is going to cost you before you build it is a really good idea, there's not a single, simple answer. It's a little bit like walking into a car dealer and asking a salesman what "a car" will cost. The real answer, of course, depends on exactly what kind of car (or home) you want.
If you ask a salesman at a Ford dealership how much a car costs, he'll give you a range of prices depending on the model of Ford you want and upon the options you choose. If you ask the same question at a BMW dealership, you'll also get a varying range of prices depending on the model and the options you specify. But the range at the BMW dealership, will be considerably higher than the range at the Ford dealer.
You'll have the same kind of experience when pricing homes. Custom homes cost more than standard "tract" homes. And not all custom homes will be the same price, because—well, they're custom built! But here are several factors that play a major role in determining the cost of your home—whether you're looking at the cost per square foot, or the total cost.
Complexity: A more intricate home design simply requires more labor. That's why a simple rectangular house with square corners costs less to build than home with odd angles and 20 different corners. If you're building on an unusual lot or want to add something such as a steep roof or other custom features, your costs will increase.
Finish: The materials you select for your finish (using wood or stone instead of vinyl on the floors; using granite instead of Formica for countertops; or using tile instead of shingles on the roof) will increase your cost. The number and variety of options you choose will have a direct impact on the cost.
Size and Components: When it comes to building a home, size really does matter. A 6,000 square foot home will cost more than a 2,000 square foot home. We've included components in with size because larger homes often include components that aren't commonly found in smaller homes—such as a three-or-four-car garage. Larger homes are also likely to have additional features such as porches or multiple decks.
Labor: People who build custom homes generally insist on a higher quality of craftsmanship than you'll find in mass-produced houses. The features that are built in often require a level of skill that lower-end builders simply can't afford.
Once you have a pretty good idea of what the specifics are (complexity, level of finish, size/components), shoot us a note. We'd be happy to give you a general range of the cost.