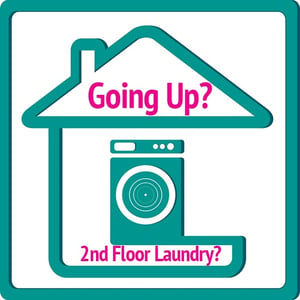 For a lot of homeowners, it's almost automatic that the laundry room is on the first floor—or banished to the basement. However, that may not be the best option for you—depending on how your family likes to live. Having your laundry on the second story may actually make more sense for you.
The Radcliffe is a prime example of how that might work. This 2,395 square foot home hosts all common/social rooms on the main floor, such as: the dining room, kitchen (with pantry), great room, study, and foyer. There's also a mudroom entry off of the 3-car garage with built-in benches and lockers (great for kids!). Some families would prefer not having their laundry on the same level where they entertain guests.
That's why the laundry is tucked away in a corner location on the second floor of the Radcliffe. There's another reason this location makes sense for a lot of families. Think for a moment about where the vast majority of your laundry originates. Clothes and bed linens come out of the bedrooms, and dirty towels have to find their way from the bathroom. All four of the bedrooms (and two main bathrooms) in this four-bedroom home are on this second level.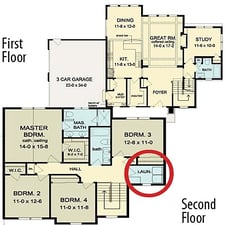 That makes it a lot easier to collect dirty laundry—and redistribute it after it's been washed. By the way, there are two linen closets on the second level to accommodate clean sheets and towels. Plus you won't have piles of laundry in the areas where your guests gather.
Of course, the choice is ultimately yours, and depends on what location best fits your specific lifestyle. We offer a wide range of floor plans from which to choose (click here to check them out!). Some have the laundry located on the first floor and others have it on the second level. And of course, there are even plans that are designed around single level living.