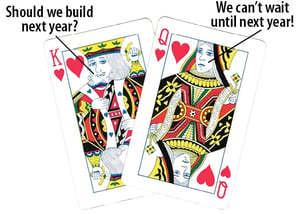 In an ideal world you'd never be rushed for time when you decide to build a new home in the eastern Rochester area. You'd have plenty of time to review plans gather design ideas for your perfect home.
Sometimes, however, life just doesn't work out that way. Maybe that second child you were trying for is showing up a little earlier than you'd planned. Perhaps you've had a job or career change that requires you to move without a lot of notice. You could even be in a situation were a parent needs to move in with you. There could be any number of reasons why waiting to build a new home simply isn't in the cards.
That doesn't mean you have to settle for any old home. As a matter of fact, you may be able to get a home with more upgrades than you planned on—at a great price. How?
Purchasing a model home can be a great solution for families who don't have the luxury of waiting to build a new home—but still want a brand new home of their own.
Builders build model homes to demonstrate the quality of their homes' designs and to show off their craftsmanship. Beyond that, they provide prospective homebuyers with the ability to actually experience what a new home will look and feel like. As a result, these homes often have upgrades built in that would normally cost more than the basic plan.
At Gerber Homes, we have a number of models that are ready for immediate move in. You get the benefit of upgraded quality and great pricing—without having to wait for construction to be completed. Click here to check out our available models. You can also downoad brochures for any of these homes that will provide you with more details.
You never know what kind of hand life is going to deal you. If you're in a situation where waiting to build a new home isn't in the cards, the game isn't over. A beautiful model home may just be your ace in the hole!