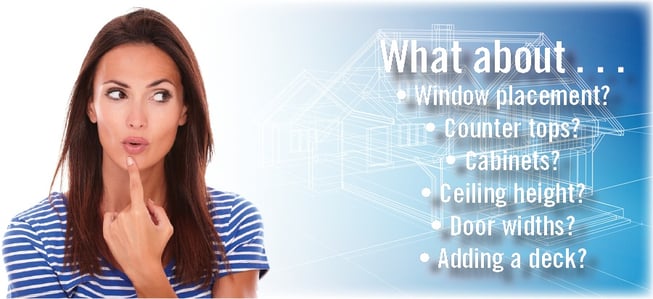 Homebuilding isn't something that happens overnight. It's a process comprised of a lot of different parts. You need a budget. You'll want to carefully select the right location for your home. You'll want to make an informed decision about which floor plan is right for you. Even when you've done all of those things, you'll still have questions you'll need to answer before making important decisions. (By the way, if you prefer watching a video, click here to see most of this same information)
The good news is that you don't have to do all of this on your own. At Gerber Homes, we've built more than 3,000 homes over the years, but we know that this is your home. That's why we want you to understand the process so that you're comfortable with it—and feel confident that you're going to end up with a home you'll love.
Even after you've picked your plan and lot, there are a lot of things that happen before construction actually begins. Here's a quick overview of how we walk clients through that pre-construction process.
Meet with Sales/Design Consultant: This is generally about a one-to-three hour meeting at our office or at one of our model homes. Together we'll fill out a form that covers all of your selections for the colors and materials you choose for your home. We'll ask you lots of questions about your expectations, to make sure we're all on the same page. We'll actually show you the materials we plan to use in building your home so that there are no surprises. You'll be able to see examples of things such as roofing and siding materials, interior doors, and trim materials.
Meet with Suppliers: This is where you'll have a chance to look at items such as kitchen cabinets, flooring options, plumbing fixtures, and more. We invite you to visit as many of the suppliers as you like—or simply focus on the ones that are most important to you. We always have design consultants on hand to answer your questions and help you make the selections that are right for you.
Blueprint Review Meeting: This is where you get to make sure that the blueprints we've drawn up for your home really represent what you want. I'll meet with you personally in our office to go over these plans. This usually takes about two hours to review the plans and the selections you've made. We'll actually go through a checklist to ensure we cover everything that's important to you. We came up with this checklist based on things our clients have told us they'd wished someone had asked them before construction started. It covers things you might not think of at the time, but wish you had, such as:

Where will my basement windows be located?
Where will my furnace be located?
Which way will the doors in the house open?
How wide will the doorways be?
What about the positioning of outdoor spigots?
Which way will the garage door face?
These may not seem like very exciting issues, but that can have a significant impact on the way your home feels. Details matter when building the home of your dreams, and this checklist covers roughly 80 items to help ensure that your home is everything you want it to be. Click here to download a copy of this checklist.