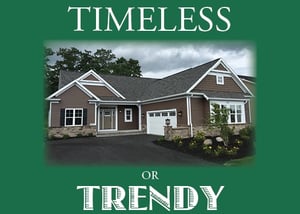 As we approach the end of the year you can expect to start seeing homebuilding and decorating articles pop up that tout the newest design and decorating trends for the coming year. You'll see topics such as: "Which Colors Are Hot—And Which Are Not." You'll hear about which countertop materials are trending for the next year. There will probably be articles about the "death of stainless steel appliance" like there have been for years now.
The honest truth is that much of what the interior of a home looks like depends on personal taste. Instead of worrying about whether or not you have the perfect shade of blue (or mauve, or whatever the color-de-jour is) it makes more sense to pay attention to timeless design that will look good—and feel comfortable for years to come.
There's nothing wrong with keeping up with trends. We've all been in homes that are in desperate need of updating. But timeless design has more to do with comfort and function than it does with specific color palettes. And let's face it; if you don't like your wall colors, faucets, or light fixtures, you can change them. Sure, it will cost you to make those changes, but they're not too costly or hard to do.
Timeless design, however, is focused on how the space within your home is configured and built out to accommodate that way your family lives. It's all about making sure your home fits your lifestyle—the things you do and enjoy on a daily basis.
For instance, if you like to cook and entertain your kitchen is going to be a focal point of your home. Whether you're building a new home or remodeling your existing Rochester-area home, you'll want the kitchen to take center stage and allow you to cook and entertain comfortably. It's really more about how you organize the space (and build it) than it is about how you decorate the space.
Some trends, really aren't "trendy" at all. They are a reflection of what's important to homeowners. Years ago, kitchens were kept separate and out of sight. Today the kitchen is often visible from multiple rooms in the house. Open floor plans are all about easy access to other areas in the home. Plus that trend (open floor plans) enables homeowners to take advantage of more natural light. The result is a home that feels more spacious and incorporates the beauty of the outdoors. That's the kind of trend that has staying power because it's focused on how you live—and not just which colors are currently in vouge.
If you're planning to build a new home, it can be really helpful to review floor plans to identify designs that best match your family's lifestyle. That's why we offer dozens of different floor plans in a variety of sizes and styles. You can take a look to see which one best matches your specific needs.
As you make your decisions, keep timeless style and functionality in mind. Styles may come and go, but great, functional design is timeless.