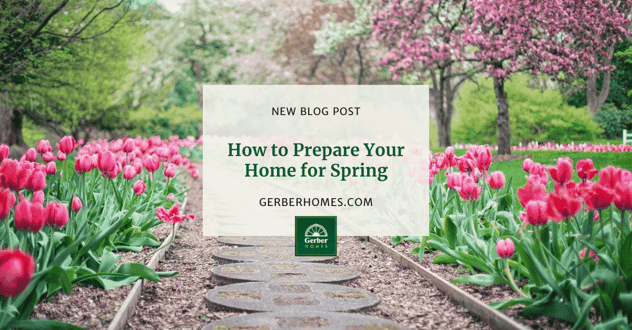 With winter weather now behind us, it's time to concentrate on getting your home ready for spring. Our list of spring maintenance and cleaning tasks will help you ensure that your Finger Lakes/Rochester home and yard are in perfect condition for the warmer months ahead.
Start with an Indoor Inspection
Examining your house from top to bottom will help you determine if you need to tackle any repair or replacement projects this spring. Spend a little time in each room and look for:
Faded or peeling paint
Scratched or gouged flooring or walls
Stained carpeting
Popped nails in floors or walls
Stained walls or ceilings (could be a sign of leaky pipe)
Windows or doors that don't close easily
Appliances that make strange noises or don't work quite as efficiently as they once did
Dripping faucets, leaking pipes or toilets that run or leak
Loose, broken or non-functioning outlets or light switches.
Check Out Your Yard and the Exterior of your Home
A lot can happen to your yard and exterior areas of your home during the winter months. When you conduct your outdoor tour, check for:
Damaged or loose window or door screens
Loose gutters, flashing, siding or shingles
Missing mortar between the bricks in your chimney
Cracked or damaged walks, driveways and patios
Worn, damaged or rotted wood on your deck
Loose railings
Cracked or broken windows
Damaged, rotted or warped garage door or exterior doors
Dedicate a Weekend to Spring Cleaning
Is spring cleaning a yearly event in your home? Close to 80 percent of Americans share your view that the spring is the ideal time to air out your home and give it a good cleanings, according to a Statista survey. These tasks are among the many you'll want to add to your spring cleaning checklist:
Dust or wash your walls, ceilings, ceiling fans and HVAC vents.
Vacuum, sweep or mop every room.
Clean the carpeting with your own cleaner or a rental machine.
Wash curtains, blinds and bedding, including the covering of your pet's bed.
Wash every window in your house.
Dust light bulbs, light fixtures and the tops of your refrigerator, kitchen cabinets, and door and window frames.
Clean and organize your kitchen cabinets.
Organize and clean your closets. Donate, sell or throw out clothing and other items you haven't used or worn for a year.
In addition to your usual bathroom cleaning routine, clean the exteriors of tubs, showers and cabinets.
Clean your outdoor furniture, including your grill. (Spiders and other critters like to make themselves at home in grills during the winter.)
Test Your Systems and Devices
The first hot day of the year is a terrible time to discover that your air-conditioner no longer works. Try out your AC, sprinkler system, pool filter and any other outdoor systems or devices, like grills, retractable awnings and outdoor televisions and sound systems. While you're testing your systems and devices, replace filters in your air-conditioning water filter, air purifier and range hood. Spring is also the perfect time to test smoke and carbon monoxide detectors and replace batteries if you use battery-operated models.
Did you notice a few issues with your home during your spring inspection? A home remodeling project can bring your home up-to-date or add much-need space to your master bedroom, family room or kitchen. Contact our office and let us know how we can help you improve your home.