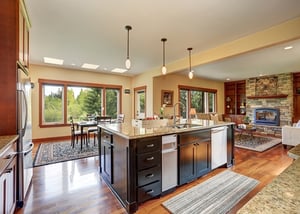 There is no mistaking the popularity of open-plan design in the homebuilding and home remodeling industry. And if you scour sites such as Houzz.com and BHG.com a lot of the homes you see reflect how widespread this style has become. But is open-plan living just a fad? Is it still something you want to consider for your Rochester-area home?
First of all, there's a difference between a fad and a trend. Fads come and go quickly and tend to be a bit more superficial. For instance, a color that's "hot" at the beginning of 2017 may not be all that popular by the end of the year. A genuine trend, however, tends to reflect changes in design that are based on how people actually live.
Years ago, the trend was to have rooms in one's home that were distinct and set apart for specific purposes. That was particularly true of the kitchen. It was a room that was devoted to food preparation. It simply wasn't a place where guests would congregate. Living rooms were more formal spaces for entertaining guests. Family rooms were less formal, but generally devoted to the family and close friends.
As we've gotten less formal and more casual in our lifestyles we've also embraced design that is more open. People don't have to be cut off just because they are in the kitchen or in the family room. There's simply more access. And on top of that, open-plan design allows much more natural light. There has also been a movement toward blurring the lines between indoors and outdoors—with homeowners wanting to bring the open spaces of outside into their homes.
Not everyone has fully embraced that style, however. Some individuals feel the open-plan homes are too open and that they can feel cavernous. Some miss a sense of privacy or coziness. There are those who want specific spaces to be more defined.
If you look at the image of this open-plan home, you'll notice how it does indeed let in lots of light and makes access to different rooms (kitchen, dining area, family room area) easy and unobstructed. But you'll also notice how those individual spaces are defined and set off by items such as area rugs, lighting, furniture, and even built-in features such as a fireplace. Some homes use screens or half-walls or bookcases to break up the space and provide some privacy.
It would appear that open-space design isn't a fad, but a design trend that is here to stay for a while. But that doesn't mean you have to feel like you're living in a warehouse! You can use other elements to warm up the space and to define specific areas within that open space to make your home warm and comfortable while making access to various common rooms in your home easy.
It's also important to remember that your specific decision about your home doesn't have to be dictated by what others do. That's one reason we offer such a wide variety of floor plans for your new Rochester-area home. Whether you're looking for a Colonial style home, a 1st Floor Master Bedroom plan, a Patio Home, a Ranch home—or even a home that features an In-Law apartment that provides security and privacy in a multi-generational setting, you'll find it with Gerber.