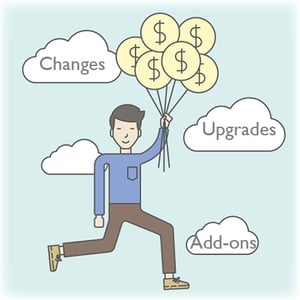 Most potential homeowners know the importance of setting a realistic budget when building a new home—and then sticking to it. Nothing takes the fun and excitement out of owning a new home quite like discovering that you've overspent and knowing that you're in financial difficulty.
So why do we keep hearing stories about individuals blowing their budgets when building a new home? And more important: How can you keep your homebuilding expenses in line with your budget if you're building a new home in the eastern Rochester area?
First of all, it's important to have a realistic budget. That means deciding what you can really afford. If you budget too low, you won't be happy with the home you build (and it will cost you more to bring it up to your expectations later). If you budget too high, you can find yourself "house poor" with no funds for other important activities. Here's a short post about how it's easy for homeowners to bite off more than they can chew financially.
Even homeowners who have established a realistic budget can find themselves over-spending. Here are a couple of the main culprits:
Over-Doing the Upgrades: It's easy to get caught up in upgrading finishes. There's no doubt that customized countertops or cabinets look really great. They may catch you eye online or at an open house. The same thing happens with flooring, carpet, trim and molding. Individually, it doesn't seem like those things make that much difference, but they add quickly. We're not saying you shouldn't upgrade, but make sure you're really getting the most bang for your buck (such as increased durability). And make sure the upgrade really fits your lifestyle (a 6-burner stove may look really cool, but are you really a gourmet cook?).
Changes and Add-Ons: Part of the appeal of building a custom home is that you get to personalize it to reflect your lifestyle and needs. Changing plans and adding features after construction has begun, however, can be really costly. What seems like a small change ("Can we move that wall just 6 inches to the left?") can be a big deal. The same is true if you add on a room after the foundation is in. Those things aren't bad or wrong—but they can be costly. That's why you'll want to make sure you go over your floor plans carefully with your builder (and review them privately) to make sure what you plan to build is really what you want.
Sometimes changes and upgrades make sense, but knowing how much to change or add—and when to do it—can make the difference between staying within budget and finding yourself in financial trouble.